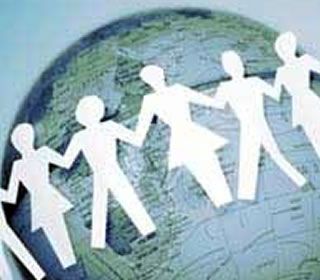 UTSA hosts April 18 teach-in on immigration bill
By Kareem El Dahab
Student Writer, College of Liberal and Fine Arts
(April 17, 2006)--The UTSA Office of Institutional Diversity, the Office of Student Activities and the Office of the Provost and Vice President for Academic Affairs will host a teach-in, "The Impact of HR 4437," at 10 a.m., April 18 in the Buena Vista Theatre (1.326), UTSA Downtown Campus. The event is free and open to the public.
The proposed bill, HR 4437, has provoked much nationwide discussion because it would make it a felony to be an illegal immigrant in the United States. The House of Representatives is on the verge of passing the controversial law.
---
Today's headlines
Article tools
---
The teach-in will offer the opportunity to learn more about HR 4437 and its effects if passed.
Panelists will include Kathleen Arnold, assistant professor of political science and geography; and Elizabeth de la Portilla, assistant professor of bicultural-bilingual studies and anthropology. Gabriel Acevedo, assistant professor of sociology, will moderate the seminar.
For more information, contact Grace Hernandez, Office of Institutional Diversity, at (210) 458-4120.