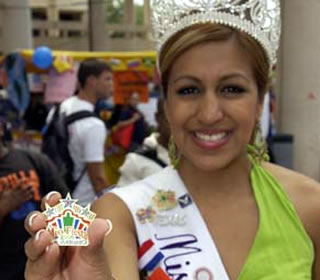 Top: President Ricardo Romo greets Miss Fiesta San Antonio
Abigail Garcia. Bottom: Miss Fiesta shows off a Fiesta medal.
(Photos by Mark McClendon)
UTSA student Abigail Garcia named Miss Fiesta San Antonio
By Adi Pavlovic
Student Writer, College of Liberal and Fine Arts
(April 25, 2006)--UTSA senior Abigail Garcia last week was named the 57th Miss Fiesta San Antonio, marking the third consecutive year that a UTSA student has received the crown. Fiesta San Antonio events kicked off Friday, April 21 and run through this weekend.
A communication major studying public relations, Garcia will play a major role as Miss Fiesta San Antonio, including appearances in the parades and other events such as the opening of NIOSA (Night in Old San Antonio), the pilgrimage to the Alamo, and a mass at San Fernando cathedral. Additionally, she will visit hospitals, schools and nursing homes in her official role.
---
Today's headlines
Article tools
---
"I feel very blessed to have received this title, and I am proud to represent UTSA and San Antonio," Garcia said. "I have met some beautiful people with hearts of gold, and San Antonio is truly the greatest city in Texas."
Garcia's reign will extend further than the Fiesta events. As Miss Fiesta San Antonio, she will travel throughout the year to different various festivals and events representing the city. Among other events, her schedule includes traveling to Georgia for the Cherry Blossom Festival, Minneapolis for the aquatennial festival and California for the Rose Bowl.
The Miss Fiesta San Antonio Scholarship Pageant is a nonprofit organization developed to award educational scholarships to finalists of the pageant as well as to promote and preserve the good will of the citizens of San Antonio through Miss Fiesta's participation in Fiesta San Antonio and other official events.
Pageant contestants must be women from ages 18 to 22 who are unmarried, have no children, a high school graduate, a Bexar County resident and cannot hold another pageant title. The winner is chosen based on personal interview skills and persona.
The road to becoming Miss Fiesta San Antonio is a rigorous one. After applying and participating in an interview by the pageant board, the remaining applicants must practice for the pageant every Saturday from November to February.
For two days before the pageant, a panel of selected judges interviews the contestants again. Following the interview, there is an evening gown competition. Finally, each woman puts together a skit portraying an important woman in Texas history.
Garcia selected Mary Nan West for her skit. West was known for breaking boundaries for women and was active in the livestock and rodeo shows. She also established a scholarship program, which now distributes more than $10 million annually.
The oldest of four sisters, Garcia also plans to establish a scholarship foundation that will provide the opportunity for young mothers to continue their education.