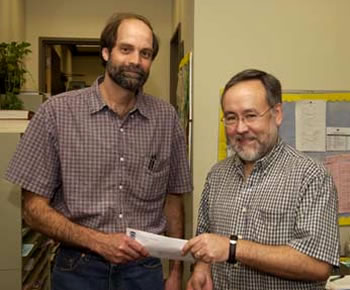 Robert Rivas (left) is congratulated for his award by Aaron Cassill,
associate professor and chair of the biology department.
(Photo by Mark McClendon)
Extra Mile Award: Robert Rivas
By Kareem El Dahab
Student Writer, College of Liberal and Fine Arts
(April 18, 2006)--Robert Rivas, research scientist associate II in the Department of Biology, will be honored with the Extra Mlle Award, one of five that will be presented April 20 at the UTSA Staff Excellence and Service Awards ceremony.
The five Staff Excellence Awards recognize excellent work performance in emerging leadership, dynamic leadership, teamwork, extraordinary initiative and overall excellence.
---
Today's headlines
Article tools
---
This year's additional award winners are:
Rising Star Award: Dan Smolenski, senior systems administrator, Department of Computer Science
Leadership Award: Lowa Mwilambwe, university center director
Team Spirit Award: Inventory Department staff members George Estevez, inventory clerk I; Olinda Ongay, inventory clerk II; Miriam Marin, inventory clerk II; James Sumner, inventory clerk III and Frank Bates, accountant II
Order of the Roadrunner Award: Hermilo "Milo" Silva, assistant director of planning and engineering, Center for Distance Learning and Academic Technology
In the fourth of five award spotlights that will be featured on UTSA Today, the Extra Mile Award recognizes an individual with at least three years continuous service with UTSA and who has aided the success of UTSA through his or her outstanding contributions at work. This person demonstrates extra efforts in their accomplishments, timeliness, follow-through and willingness to help fellow employees. He or she provides excellent customer service with creativity, dedication, cooperation and reliability. He or she has performed above and beyond normal job requirements resulting in furthering their department's and UTSA's goals and mission.
------------------------------
Robert Rivas
Extra Mile Award winner
Robert Rivas is responsible for maintaining the quality of the introductory biology laboratories. Currently, nearly 1,000 students each year take this class in 40 different sections. Rivas must coordinate the chemicals and equipment so that the students meeting in each laboratory will have what they need.
Although not in his job description, Rivas repairs an average of 15 minor and two major equipment breakdowns every week. By going above and beyond the call of duty and spending extra time to do this work, he saves the university thousands of dollars in repair bills. If he were not able to do these tasks, many of the labs would have to be canceled.
Additionally, he trains biology teaching assistants to become effective teachers, often crossing language barriers in order to achieve this. Rivas also acts as an ambassador for the UTSA science community. He is contacted throughout the year by people who are interested in using the university's facilities for science fairs, mold detection and identification of bacterial infections.
According to one of his nominators for the award, Aaron Cassill, associate professor and chair of the Department of Biology, "Robert is one of the best citizens of the department. If someone's car breaks down, he drives out and tows it to a repair shop or fixes it himself. When an instructor is out sick or has a family situation, Robert is the first to volunteer to cover their class. He works very hard to make sure his students are always taken care of. He always has the time to talk with a student or co-worker to help them through the day. He is always going above and beyond to help the university excel."
------------------------------
UTSA employees are invited to attend the event hosted by Rosalie Ambrosino, UTSA provost and vice president for academic affairs; Kerry Kennedy, UTSA vice president for business affairs; and Jude Valdez, UTSA vice president for extended services, at 2 p.m., Thursday, April 20, in the University Center Laurel Room (2.01.28) on the 1604 Campus. The ceremony will include remarks by UTSA President Ricardo Romo.
Downtown Campus and Institute of Texan Cultures staff members can attend the event utilizing VIA buses 93 or 94 at no charge by showing their UTSACard.
The ceremony will include retiree recognition, service pin awards for 5 to 35 years, and refreshments. Thirty-four staff members will be honored on their retirements and 214 staff members will receive UT System service awards for the 2005 calendar year.