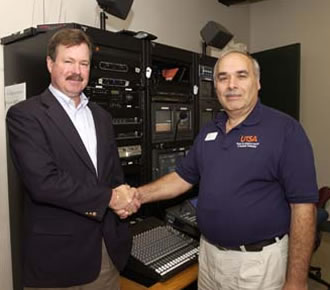 Hermilo Silva (right) is congratulated by Bill Angrove, assistant
vice provost for distance learning and academic technology.
(Photo by Mark McClendon)
Order of the Roadrunner Award: Hermilo Silva
By Kareem El Dahab
Student Writer, College of Liberal and Fine Arts
(April 18, 2006)--Hermilo "Milo" Silva, assistant director of planning and engineering in the Center for Distance Learning and Academic Technology, will be honored with the Order of the Roadrunner Award, one of five that will be presented April 20 at the UTSA Staff Excellence and Service Awards ceremony.
The five Staff Excellence Awards recognize excellent work performance in emerging leadership, dynamic leadership, teamwork, extraordinary initiative and overall excellence.
---
Today's headlines
Article tools
---
This year's additional award winners are:
Rising Star Award: Dan Smolenski, senior systems administrator, Department of Computer Science
Leadership Award: Lowa Mwilambwe, university center director
Team Spirit Award: Inventory Department staff members George Estevez, inventory clerk I; Olinda Ongay, inventory clerk II; Miriam Marin, inventory clerk II; James Sumner, inventory clerk III and Frank Bates, accountant II
Extra Mile Award: Robert Rivas, research scientist associate II, Department of Biology
In the fifth of five award spotlights that will be featured on UTSA Today, the Order of the Roadrunner Award recognizes an individual who demonstrates exemplary service and commitment to UTSA and the achievement of its goals through his or her actions throughout the year. This individual has enhanced the quality of work life in ways that significantly increase productivity and efficiency for colleagues or customers through the development of creative solutions, providing outstanding and ongoing excellence in services to faculty, staff, students or other UTSA customers. This is the highest honor that a UTSA staff member can receive for their service to the UTSA community.
------------------------------
Hermilo Silva
Order of the Roadrunner Award winner
Milo Silva has worked for the UTSA Center for Distance Learning and Academic Technology for nine years and is a UTSA alumnus.
Silva is responsible for supervising the televising of numerous events and ceremonies at the Downtown and 1604 campuses, and accomplishes these projects with high standards, professionalism, dedication to customer service and with the pride of a UTSA alumnus.
A year ago, he began to redesign the methods of teaching in classrooms for faculty and staff. By eliminating remote controls and wires in the classroom, Silva removed the anxiety that comes with operating technology -- all at the touch of a button. UTSA faculty members that were not completely comfortable with integrating technology into their daily lessons can now do so with ease.
The successful project still being implemented began with intensive research that required identifying the technological obstacles of classrooms and working with faculty and staff to discuss the changes needed. The first phase of the project was budgeted to add new technology to 10 classrooms, but because of Silva's cost-effective planning and his personal work, 17 classrooms were fitted with the equipment. One year later, the project continues as 54 classrooms have been upgraded with the new technology.
According to one nominator, "Many accomplishments such as these are often overlooked because they are behind the scenes. But, they would never be successful without the leadership, dedication and personal mission to help as many people as possible that Milo Silva exemplifies to those who work around him. The Order of the Roadrunner Award could only go higher in prestige by including Hermilo Silva as its representative."
-----------------------------
UTSA employees are invited to attend the event hosted by Rosalie Ambrosino, UTSA provost and vice president for academic affairs; Kerry Kennedy, UTSA vice president for business affairs; and Jude Valdez, UTSA vice president for extended services, at 2 p.m., Thursday, April 20, in the University Center Laurel Room (2.01.28) on the 1604 Campus. The ceremony will include remarks by UTSA President Ricardo Romo.
Downtown Campus and Institute of Texan Cultures staff members can attend the event utilizing VIA buses 93 or 94 at no charge by showing their UTSACard.
The ceremony will include retiree recognition, service pin awards for 5 to 35 years, and refreshments. Thirty-four staff members will be honored on their retirements and 214 staff members will receive UT System service awards for the 2005 calendar year.