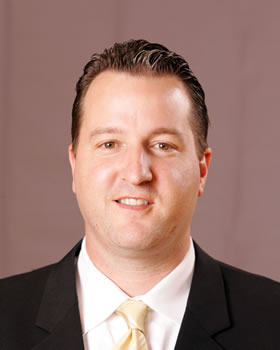 Brooks Thompson
UTSA names Brooks Thompson men's basketball coach
By Kyle Stephens
Director of Sports Information, UTSA Athletics
(April 19, 2006)--University of Texas at San Antonio Athletic Director Lynn Hickey announced Tuesday the hiring of Brooks Thompson as head men's basketball coach.
Thompson's hiring is effective immediately. He replaces Tim Carter, who was reassigned on March 21.
Thompson was an assistant coach at Arizona State from 2004 to 2006, helping the Sun Devils reach the National Invitational Tournament in 2005.
---
Today's headlines
Article tools
---
He helped Arizona State post eight wins against teams that qualified for the postseason and one of his players -- Ike Diogu -- was the Pac 10 Player of the Year, a second team All-American and the ninth overall pick in the 2005 NBA Draft (Golden State Warriors).
Prior to his stint at Arizona State, Thompson was head coach at Yavapai College for two seasons (2002-04) where he compiled a 55-14 record and a .797 winning percentage, the highest in school history. He was named NJCAA Region I Coach of the Year both seasons and Arizona Community College Athletic Conference (ACCAC) Coach of the Year in 2002-03. Thompson led the RoughRiders to back-to-back ACCAC regular season titles -- the first two conference titles in school history -- and to two consecutive Region I Tournament Championships.
Thompson guided Yavapai to a 28-7 record in 2002-03, qualifying for the NJCAA Tournament and finishing with a final national ranking of No. 11. In 2003-04, Yavapai was ranked as high as No. 8 and finished the season with a 27-7 mark, a No. 17 ranking and a second straight NJCAA Tournament berth -- Yavapai had previously qualified just once in 1980. The RoughRiders scored 91.1 points per game (14th in the nation) and ranked 13th in the country in both field goal percentage (55.0) and 3-point field goal percentage (38.0).
Thompson began his coaching career as an undergraduate assistant at Oklahoma State in 1998-99 and served as head coach at Metro Christian Academy in Tulsa, Okla., in 1999-2000. He was an assistant at Southeastern Louisiana in 2000-01.
Also a standout player, Thompson played two seasons at Texas A&M in 1989-91 where he earned second team All-Southwest Conference honors in 1990-91. He then transferred to Oklahoma State where he was a second team All-Big Eight selection in 1992-93 and a first team all-conference player in 1993-94. He led the Cowboys in assists both seasons and averaged 16.9 points per game as a senior.
The Orlando Magic selected Thompson in the First Round of the 1994 NBA Draft. He played in the NBA Finals in 1995 for the Magic and set the franchise record for most points in a quarter (21). He also played for the Utah Jazz in 1996, the Denver Nuggets in 1996-97, the Phoenix Suns in 1997-98 and the New York Knicks in 1998.
Thompson earned a bachelor of science degree in political science from Oklahoma State. He and his wife Michelle have two daughters, Ryan Michelle and Brooke.
For more information, visit the UTSA Athletics Web site.
---------------
What they're saying about Brooks Thompson
"Brooks is one of the bright young guys in our profession. There is no doubt that he is one of the rising stars in the game of basketball. His ability to communicate with his players, administration, alumni, recruits and the media has played a major role in his success and will continue to pay dividends throughout his career. He is a tireless worker and a quality person." -- Bill Self, head coach, University of Kansas
"He got a great start in coaching under a guy like Eddie Sutton. He always played with intelligence and passion. If his players play with those same qualities and listen to what he tells them, they'll improve more than they realize. It's always nice to see a guy that you coached move on and do well in the profession. It looks like Brooks is doing that." -- Jeff Van Gundy, head coach, Houston Rockets
"Brooks Thompson has always had a special feel for the game of basketball. As a player, assistant coach and head coach, his ability to teach the game and relate to his players is exceptional. He's a man of character and integrity and truly cares about his players. He's one of the best assistant coaches I have ever had. His success as a head coach is no surprise to me." -- Billy Kennedy, head coach, Murray State University
"In my years at Oklahoma State, Brooks Thompson was not only one of the best players we've had but one of the most competitive, as well. After a successful career in the NBA, he has brought that same competitiveness to coaching his team. During his time on my staff at OSU, I could see he had the organization, enthusiasm, work ethic and skill to be a very successful coach. What he accomplished at Yavapai in two short years is nothing short of amazing. He led that program to unprecedented success. He has proven himself as one of the top coaches and recruiters in the country. I have no doubt that Brooks will prove himself to be an outstanding head coach at the Division I level." -- Eddie Sutton, head coach, Oklahoma State University.