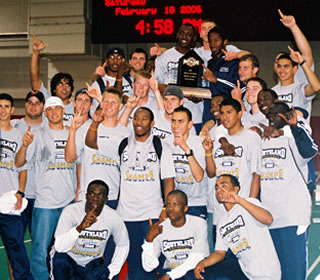 UTSA men's track team
UTSA captures SLC Men's All-Sports Trophy
By Kyle Stephens
UTSA Sports Information Director
(May 24, 2006)--Led by a conference championship in indoor track and field and runner-up finishes in baseball, golf and outdoor track and field, UTSA captured the 2005-06 Southland Conference Men's All-Sports Trophy and finished second in the race for the Commissioner's Cup, the league office announced Monday in Plano, Texas.
UTSA posted 57.0 points in the men's sports of baseball (9.5), basketball (3.5), cross country (5), golf (10), tennis (8), indoor track and field (11) and outdoor track and field (10) to edge Sam Houston State (56.5) by one-half point. Texas-Arlington (53.5), Southeastern Louisiana (53.0), which competes in one more sport than the top three, and McNeese State (50.5) round out the top five in the final standings.
---
Today's headlines
Article tools
---
"Last August in our staff meetings, we set high expectations as a department to be successful across the board this year," Athletic Director Lynn Hickey said. "We used the Commissioner's Cup as a goal to work toward. We had some outstanding team and individual performances throughout the year, so I am very appreciative of all the hard work and dedication put in by our coaches, student-athletes and support staff."
Behind a third straight regular season crown in softball, the UTSA women scored 64.0 points in basketball (9), cross country (7), golf (6), softball (11), tennis (7.5), indoor track and field (7), outdoor track and field (8) and volleyball (8.5). Texas State captured the women's trophy with 75.0 points, while Sam Houston State was second with 69.0. UTSA was second among schools competing in only eight of the nine offered sports behind third-place Stephen F. Austin (68.0). Texas-Arlington (54.0) rounded out the top five.
In the combined standings — the Commissioner's Cup race — UTSA placed second with 121.0 points, just behind Sam Houston State's 125.5. Texas State (116.0), Stephen F. Austin (115.0) and Texas-Arlington (107.5) completed the top five.
"Placing second overall is even more impressive when you consider women's golf is in its first season of competition and women's soccer has yet to compete," Hickey said. "I can't tell you how proud I am of all our teams. I like seeing UTSA at or near the top on an annual basis."
The SLC All-Sports Trophy is awarded annually for men's and women's competition based on an 11-point system for all conference sports. Point values are 11, 10, 9, 8, 7, 6, 5, 4, 3, 2 and 1 pending place of finish. Points are awarded regardless of the number of teams competing in the championship. The Commissioner's Cup is awarded to the university compiling the highest combined total of men's and women's all-sports points.