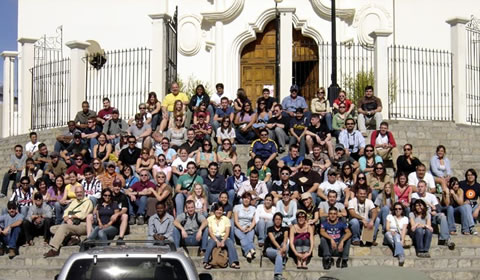 UTSA architecture and interior design students at the plaza in Santiago, Nuevo Leon, Mexico
UTSA students design new plazas for San Antonio
(May 1, 2006)--The UTSA College of Architecture and the Radius Café will host a competition for the design of a new plaza for San Antonio. The projects, designed by sophomore architecture and interior design students, feature proposals for 12 new plaza locations and more than 100 new plaza buildings.
The award winners will be announced at 5 p.m. May 3 at the Radius Café, 106 Auditorium Circle, just east of Municipal Auditorium and one block north of Travis Park. The event is free and open to the public. The designs will remain on display through Friday, May 5.
---
Today's headlines
Article tools
---
Ten awards, ranging from $1,000 to $3,000, are being donated by Bill Lende, a resident of Downtown San Antonio.
The new plazas are being proposed as centers of economic development in inner city San Antonio. The project was inspired, in part, by Mayor Phil Hardberger's plans to revitalize Main Plaza. The new plazas would be on sites that are now vacant lots, parking lots or warehouses.
The building proposals include housing, entertainment, businesses, museums, theaters, schools and transportation hubs. The proposed plaza locations include areas adjacent to Blue Star, the Main Library, the Alameda Theater, Hot Wells resort, the former Lone Star Brewery and a parking lot at Houston Street and the San Antonio River. All proposals are hypothetical and are meant to explore modern interpretations of the traditional Spanish plaza.
Judges for the design competition include developer James Lifshutz; Char Miller, director of urban studies at Trinity University; architect Lewis Fisher, FisherHeck Architects; architect John Speegle, Speegle Architecture; Carol Haywood, senior planner with the City of San Antonio; restauranteur Cappy Lawton; landscape architect Larry Clark, Bender Wells Clark Design; and Chester Slimp, San Antonio city architect.
The UTSA students are under the guidance of faculty members Craig Blount, Dan Gonzalez, Ela Poursani, Candid Rogers, Jon Thompson and John Webb.
The students began their plaza research by taking a weekend bus trip to Monterrey, Mexico, where they studied a variety of Mexican plazas. Associate Professor Jon Thompson coordinated the plaza design project.
For more information, contact Jon Thompson at (210) 288-4886.