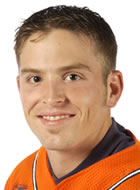 Top row: Nate Avila, Sean Burch and Nicole Dunson
Bottom row: Catherine Garza, Barbara Mooney and J.R. Voyles
Six Roadrunners named Arthur Ashe sports scholars
By Kyle Stephens
UTSA Sports Information Director
(May 17, 2006)--Seniors Nate Avila (Alvin, Texas) Nicole Dunson (Corpus Christi, Texas/Carroll), Barbara Mooney (LaPlata, Argentina) and J.R. Voyles (Tomball, Texas), junior Catherine Garza (San Antonio/Reagan) and sophomore Sean Burch (Edinburg, Texas) were named 2006 Arthur Ashe Jr. Sports Scholars award winners, Diverse Issues In Higher Education magazine announced May 10 in Fairfax, Va.
Burch, Dunson and Garza were named to the first team in their respective sports of men's golf, women's basketball and softball, while Avila, Mooney and Voyles made the second team in men's tennis, women's tennis and baseball.
---
Today's headlines
Article tools
---
Diverse Issues In Higher Education established the Sports Scholars Awards to honor undergraduate students of color who have made achieving both academically and athletically a winning combination.
Inspired by the commitment to education of tennis legend Arthur Ashe Jr., as well as his love for the game of tennis, Arthur Ashe Jr. Sports Scholars must exhibit athletic ability, academic excellence and community activism. To be included, students have to compete in an intercollegiate sport, maintain a cumulative grade-point average of at least 3.2 and be active on their campuses or in their communities.
Two of the scholar-athletes, University of Florida women's basketball player Sarah Lowe and Florida State University football player David Castillo, were selected as Sports Scholars of the Year for best exemplifying the standards of scholarship, athleticism and humanitarianism.