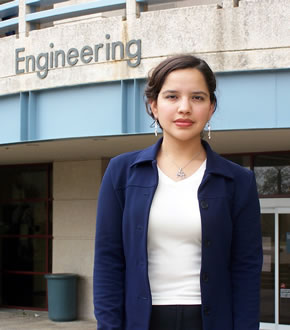 Jeanette De Leon
Commencement Close-up: Jeanette De Leon
By Kris Rodriguez
Public Affairs Specialist
(May 18, 2006)--In a field traditionally dominated by males, 23-year-old San Antonio native Jeanette De Leon continues to impress with her list of accomplishments as a recent summa cum laude graduate from the UTSA College of Engineering.
De Leon was one of 21 female engineering graduates to walk the stage at the May 2006 commencement ceremonies. Additionally, she graduated in the Honors College as a tier-2 honors graduate. De Leon now sets her sights this fall on pursuing a master's degree in mechanical engineering.
---
Today's headlines
Article tools
---
A member of the Honors College and the dean's list member throughout her UTSA career, De Leon also was very involved in student activities and held offices in several student organizations. She served as president of the student chapter of American Society of Heating, Refrigerating and Air Conditioning Engineers (ASHRAE) and was president of the College of Engineering Student Council for two years.
"UTSA and the engineering program have been everything to me," said De Leon. "I love the environment and the faculty were great."
De Leon's academic achievements include Who's Who Among Students in American Universities and Colleges, the All-American Scholar Collegiate Award and the UTSA University Life award as Outstanding Student in the College of Engineering.
In 2005, she was featured in articles by American Society of Engineering Education's Prism magazine and Hispanic Engineers magazine.
"Jeanette has been an excellent student and model citizen at UTSA," said Amir Karimi, associate dean of the UTSA College of Engineering. "She has a strong desire to obtain a deep understanding of technical subjects and shows great potential to become a successful professional engineer."
De Leon said coming out of high school she had the potential to be accepted at Harvard, MIT or any other Ivy League school but decided against it because she found everything she wanted in her hometown at UTSA.
She credits her faith and family for giving her the strength to succeed in a very challenging field.