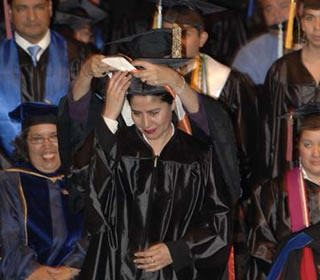 Top photo: Aztec dancers perform at "La Despedida."
Middle photo: A UTSA graduation candidate receives
a hood. Bottom photo: Proud family members watch
the ceremony. (Photos by Patrick Ray Dunn)
'La Despedida' graduation ceremony honors traditions, families
By Alison Beshur
Public Affairs Specialist
(May 18, 2006)--The words: "Para Mi Familia (for my family), Para Mi Raza (for my race), Para Mi Comunidad (for my community)," line the sides of a triangle that frame a hand holding a diploma.
The logo represents "La Despedida," a unique Latino-influenced graduation ceremony at the UTSA Downtown Campus. The words mirror three major influences of students who organized the first ceremony 11 years ago.
---
Today's headlines
Article tools
---
"La Despedida," which means farewell, started as a small graduation celebration with a few dozen students who wanted to invite more guests than the university could accommodate at its general ceremonies.
Last week, a record 83 graduate candidates participated in the event, which included incense and an indigenous blessing, a bilingual English-and-Spanish ceremony, Mariachi music closing and a fiesta-like reception of Mexican food and music by the local band, Monica y Grupo Fuerte.
Michelle Montanio, assistant director of student activities at the UTSA Downtown Campus, said La Despedida is a special send-off for students.
"La Despedida provides an opportunity to bring the participants' educational journey full circle by honoring their strong familial roots, the people who have graduated before them and helped pave the way, and their community who will benefit from their achievements," Montanio said. "It is traditions like this one, started 11 years ago by a group of students and La Raza faculty that support the mission of UTSA as an Hispanic-serving institution."
David Mata, an early student organizer of La Despedida and current community adviser, said the event is more culturally relevant for students with strong ties to Hispanic traditions.
"It's a reminder for Latinos of their cultural heritage," Mata said, adding the event has become more popular and is outgrowing available facilities.
Andy Hernandez, executive director of the 21st Century Leadership Center at Saint Mary's University and co-author of the Almanac of Latino Politics 2002-2004, was the keynote speaker at this year's La Despedida.