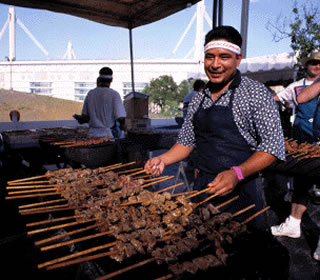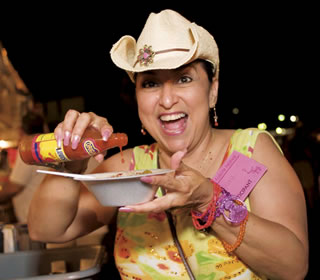 Top photo: Grilling at the Lebanese booth. Bottom photo: A TFF
participant samples hot sauce.
35th Texas Folklife Festival: 35 reasons to celebrate!
By Heather Hunter
Project Coordinator, Texas Folklife Festival
(May 30, 2006)--Happy anniversary to the Texas Folklife Festival! The 35th annual celebration runs Thursday, June 8 through Sunday, June 11, 2006, at UTSA's Institute of Texan Cultures in downtown San Antonio's HemisFair Park.
---
Today's headlines
Article tools
---
At UTSA's Institute of Texan Cultures in downtown San Antonio, the Texas Folklife Festival is a four-day family reunion and cultural extravaganza where visitors revel in a smorgasbord of ethnic foods, world music and traditional folk dance.
What makes this event so unique is that more 40 cultural groups from across the state come together to share their traditions and ensure that these special and rich customs continue.
For more information, visit the Texas Folklife Festival Web site or call (210) 458-2390.
------------------------------
35 reasons to celebrate the Texas Folklife Festival
Spend quality time with your family teaching them about their own cultural heritage and exposing them to the rich food, music, dance, arts and crafts of more than 40 cultures in the Lone Star State.
Taste a Polish pierogi -- a classic dish from Poland, similar to Italian ravioli or Chinese potstickers, but different. Try it, you'll like it.
Dance to the incredible sounds of three generations of Creole musicians from Waco -- Cedryl Ballou and the Zydeco Trendsetters.
Just try and get a front row seat when the Lebanese folk dancers perform their traditional dances.
Everything we eat and drink doesn't have to always be in a can or a jar. Learn from the experts how to make tangy German sauerkraut, fresh fruit preserves and homemade wine.
Sink your teeth into a hot and crispy homemade Mexican gordita prepared by members of St. Timothy Catholic Church.
Feel good about spending money at TFF. Proceeds of every dollar you spend on food and beverages are given back to the participating cultural organizations to help preserve the rich cultures of our great state.
Be a contestant in the Cajun Jolie Blond contest and see if you win, just for the fun of it.
Watch the Teokalli Aztec Dancers perform traditional Indian dance wearing authentic costumes and elaborate head gear.
Try Filipino pancit, Wendish noodles and Chinese long-life noodles to decide which is your favorite!
Relax in the Belgian Village and listen to the fantastic Latin jazz sounds of Zamar.
Meet Michael Cook, a silk weaver from Dallas, and 200 of his pet silk worms.
Act like a kid and challenge yourself in the Luling Watermelon Thump contest?to see just how far you can still spit a watermelon seed!
Buy a TFF T-shirt and sport your Texas pride all year long.
Listen to Texas' best storytellers weave tall Texas tales and ghost stories.
Try the Alsatian's famous parisa on a cracker -- it's good.
Hear Yanel Leyva, a 13-year-old mariachi singer and two-time Grammy nominee, sing her heart out.
Let your children test their skills to see if they can climb the Belgian pole and ring the bell.
Hear the unique sounds of Window, whose four members are all students at Trinity University. Their musical style includes a blend of folk, Latin, reggae, country and rock, representative of many cultures.
Learn how to spin horse hair into rope by J.T. Neal Jr. of Pearsall and Chris Kilgore from Houston. The craft, which dates back to the Stone Age, is becoming a lost art and needs to be passed on to new generations.
Meet Arvel Boatner of Hamilton, and learn about how his handmade goat milk and prickly pear cactus products can soften your skin, just like it did for our forefathers and the Indians. Is it that the goats are milked by hand twice per day and fed organically grown hay that make these products so unique?
Stop by the Norwegian Society of Texas booth and be one of the 4,000 people who eat a Viking Club, AKA turkey leg. Meet three generations of the Rhone family who work the booth -- Wayne, the patriarch, his son Bruce, and Bruce's 14-year-old son, Bradley.
Learn to engrave firearms from a local expert, Terry Theis, who learned the craft from Erich Boessler, a world-renowned German master engraver.
See how our forefathers prepared their meals using Dutch ovens and cooking over a fire. And sample the cowboys' culinary creations.
Stand in awe of the 100-piece Alamo City Community Band. The sight and sound of this group will make you proud to be a Texan.
Let the interactive games of Nestle's Aquapod teach your children why hydration is so important. After they participate in the educational and fun activities, they will want to drink the free bottle of water and other goodies they receive.
Meet an authentic coal-forging blacksmith, Lonnie Robinson, and check out his artistic creations available for purchase -- from tools to steak flippers to branding irons. Direct from Rowlett, Lonnie is such a dedicated artist he drives to Kentucky to get the coal he uses for his art.
Sit back, close your eyes and be transported to 1974, when the sounds of Hickory first appeared at the Texas Folklife Festival. Now reincarnated as Iron Horse, members of Hickory will be back for the 35th anniversary celebration.
Test your level of physical fitness at the WNBA Be Fit Tour area, where you can shoot hoops, learn about nutrition and receive free giveaways.
"Bigfoot in Texas?" Well, you can be the judge as you explore the exhibit inside the air-conditioned Institute of Texan Cultures building.
Buy a pair of authentic Mexican-style sandals made by the only family-owned sandal company in Texas, Piper Sandal Company. The third generation of the Piper family was born in December 2004 and Penelope's arrival beget "Penelope's Products" -- sandals for children age 12 and under.
A family that sings together stays together. Listen to Mariachi "L," comprised of eight brothers and sisters, ages 6 to 16, who perform traditional mariachi songs, as well as a few country songs which reflect their South Central Texas heritage.
Buy a bowl of homemade Creole gumbo from the hard-working volunteers at the Knights of Peter Claver booth, sit down with a cold drink and bask in the rich flavors and sweet sounds of your surroundings.
Take advantage of the expert researchers who volunteer at the Origins of Family Names booth, and get the facts about your family name -- the language, nationality and meaning. They will make you a special certificate that features your name and its meaning in calligraphy.
And if you really need a 35th reason to attend -- the unique and unified spirit of this four-day cultural extravaganza will put a smile on your face, fill your soul with great food, world music and dance, and be the inspiration you need to believe the world is good.