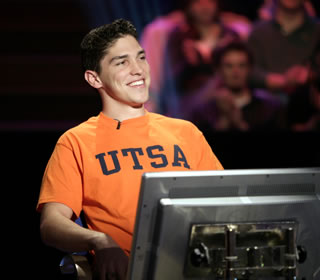 Top photo: Trevor Hykes on "Millionaire;" Bottom photo: College
Week student contestants (back row from left) Ryan Decker (Wake
Forest), Nick Hurd (Nevada, Las Vegas), Jason Rindenau (Rutgers),
Trevor Hykes (UTSA), and (front row from left) Katharine Moeller
(Minnesota State, Mankato), Christina Griffith (George Mason),
host Meredith Vieira, Amanda Isaacson (Minnesota), Emily Guskin
(Maryland) and Jenna Fracaro (Eastern Illinois)
UTSA student Trevor Hykes wins $25K on 'Millionaire'
(May 19, 2006)--UTSA sophomore Trevor Hykes walked away with $25,000 in winnings on the May 12 episode of College Week on TV's "Who Wants To Be A Millionaire."
The syndicated show hosted by Meredith Vieira does not air in San Antonio, but is seen nearby in Austin, Corpus Christi and San Angelo. The College Week episodes were taped in January at the Walt Disney World Disney-MGM Studios in Florida.
---
Today's headlines
Article tools
---
Hykes started in the hot seat on Thursday's show, where he made it up to the $4,000 question. He continued as a holdover contestant on Friday's episode. He started Friday's show, looking at the $8,000 question and had all three lifelines left to help him make his way to the million-dollar question.
Hykes, age 20, is originally from Del Rio, Texas, and is the son of Gregory and Yolanda Hykes of Rome, Ga. He is a 2003 graduate of Del Rio High School.
Hykes used his "Ask The Audience" lifeline on the $25,000 question, which was: According to the U.S. Constitution, a member of the House of Representatives must be at least how old? A) 18 years old, B) 21 years old, C) 25 years old, D) 30 years old. The studio audience voted for "C" and the AOL Instant Messenger audience voted for "D."
Hykes went with the advice of the studio audience and correctly guessed the answer to be "C." After correctly guessing the answer to the $25,000 question, he was given an additional lifeline called "Switch The Question."
Hykes used both his "50-50"and "Phone-A-Friend" lifelines on the $50,000 question, which was: What breed of dog was bred by Hubert, a 7th-century monk who later became the patron saint of hunters? A) Beagle, B) Boxer, C) Golden Retriever, D) Bloodhound.
After using the "50-50" lifeline, he was left with "A" and "D" as options. After using the "Phone-A-Friend" lifeline, Hykes guessed the answer to be "A," but unfortunately, the correct answer was "D." Hykes walked away with $25,000 and left his "Switch The Question" lifeline unused.
A UTSA political science major and marketing minor, Hykes is a member of ROTC and aspires to be an entrepreneur after serving in the armed forces after graduation.
Living off campus with three roommates, he said the first requirement of the house is to cook for yourself. He often relies on his mother's help over the phone while creating his concoctions. The last disaster happened when Hykes didn't realize the hot oil he used to make homemade potato chips had melted the plastic spoon he was using to stir them.
While working as a bellhop, Hykes was requested to be the one and only attendant to Muhammad Ali, and was the only person permitted to interact with the champ. At the end of his stay, Ali took a photo with Hykes, pretending to box.