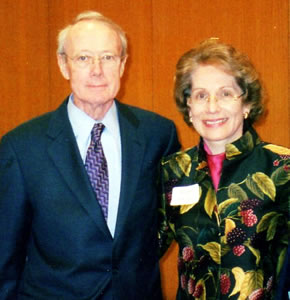 Michael Kelly and his wife, Mary Kelly, at his
retirement reception
Former UTSA dean of libraries dies May 17
(May 19, 2006)--Michael Kelly, retired longtime dean of the UTSA libraries, passed away peacefully at his home with his family at his side May 17.
A memorial service for Kelly is 1:30 p.m., Friday, May 26 at First Unitarian Universalist Church, 7150 I-10 West, San Antonio, Texas, 78213, (210) 344-4695.
"It is with great sadness that we share the news of the death of our dean, colleague and friend," said UTSA President Ricardo Romo. "We are grateful for Dr. Michael Kelly's long service to the university, and we ask that you keep the Kelly family in your thoughts and prayers."
---
Today's headlines
Article tools
---
"Dr. Kelly was one of the most highly respected librarians in the State of Texas," said Rosalie Ambrosino, UTSA provost and vice president for academic affairs. "His work made the UTSA libraries possible, and he has been an important university citizen on a number of levels."
Kelly received his Ph.D. degree in English literature and Shakespeare studies from the University of Tennessee, Knoxville, and a master's degree in library science from the University of Kentucky. In 1972, while teaching in the UK College of Library Science, Kelly was recruited to UTSA by President Arleigh Templeton.
He was the first person to hold the titles of director, then dean, of the UTSA libraries, and served under presidents Flawn, Wagner, Kirkpatrick and Romo. He was the only permanent dean of libraries since UTSA's inception.
Among Kelly's accomplishments were his service for many years as chairman of the Council of Research and Academic Libraries (CORAL) in the San Antonio area and chairman of the UT System Librarians organization from 1990 to 2002.
He acted as interim director for the UTSA Division of Music in the early 1980s and as interim director of the Division of Architecture and Interior Design in 2000. Additionally, Kelly served as parliamentarian of Faculty Senate and Graduate Council from its formation until recently.
Kelly's wish was to set up a fund for library staff and faculty development. Contributions to the fund can be mailed to:
Mike Kelly Library Staff Development Fund
The University of Texas at San Antonio
Office of Development
One UTSA Circle
San Antonio, TX 78249