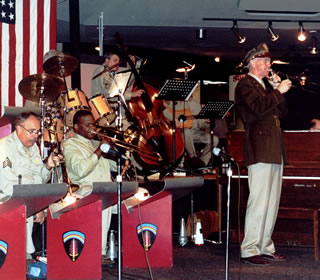 Sentimental Journey Orchestra
'Memorial Memories' concert honors military May 28
By Alison Beshur
Public Affairs Specialist
(May 26, 2006)--UTSA's Institute of Texan Cultures will host a musical tribute to the nation's military men and women of today, yesterday and tomorrow in the third annual "Memorial Memories" concert from 3 p.m. to 6 p.m. Sunday, May 28 at the museum, 801 S. Bowie St. The event is free and open to all.
---
Today's headlines
Article tools
---
The Sentimental Journey Orchestra, under the direction of Ted Conerly, will play Big Band swing music of the 1940s and 1950s. Brass, swing and wind musicians' and vocalists' renditions of old standards will inspire concertgoers to tap their feet and snap their fingers to the timeless tunes of this defining period in American history. Each branch of service will be recognized.
A hangar façade, military jeep, historical photos and stage-door canteen, where brownies will be served during intermission, will set the stage for the concert. A multimedia presentation on the museum's dome screens will showcase a plane taking off, flying over the audience and landing just as the music begins on the museum's exhibit floor.
Bruce Hoff, "Memorial Memories" project coordinator, said the event reflects on the sacrifices troops have made from the Civil War through the present-day war in Iraq.
"This is the music that kept up the morale of those brave men and women stationed far away from home and facing boredom and loneliness interrupted by episodes of terror," Hoff said. "The music also inspired hope for those left behind facing the anxiety of separation."
"Whenever our men and women in uniform are called to action, they leave with hope of joyous reunions with family and friends," Hoff said. "However, each Memorial Day, we must all pause and remember those brave men and women who did not return."
For more information, call (210) 458-2330.