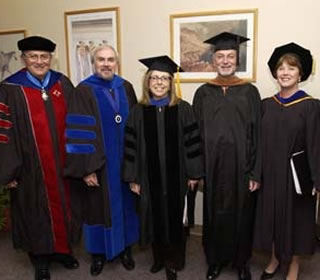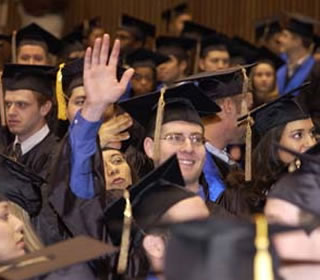 Top photo: A student's gown is adjusted at the ceremony.
Middle photo: The "platform crew" displays their garb.
Bottom photo: Graduates in colorful array
Regalia 101: UTSA's graduation garb steeped in tradition
By Cindy Brockwell
Development Assistant, Office of Student Affairs
(May 11, 2006)--If you think that costumes, parades, kings and courts end with the close of Fiesta, think again.
In late April, as the curtain falls on Fiesta, it rises again in May on San Antonio graduation ceremonies all across town -- ceremonies that exhibit all the pomp, circumstance, color and character of a coronation.
And while academic regalia -- caps and gowns to the uninitiated -- lack the glitz and glamour of Fiesta's royal gowns, it certainly doesn't lack the color, particularly at the college level, and more specifically at UTSA.
---
Today's headlines
Article tools
---
Steeped in tradition dating to medieval Europe, distinctive gowns developed over time for the various professions, trades and guilds. Today's flowing robes are mostly reserved for religious orders, the judiciary and academia.
U.S. institutions of higher education adopted an academic dress code in 1895, a code that has been revised several times. This is serious business that is overseen by a committee on academic costumes and ceremonies supervised by the American Council on Education.
Colored velvet on commencement gowns has meaning, from blue violet for degree in architecture, to brown for art or art history, to crimson for communication, to light blue for education, to sage for health or kinesiology, to pink for music.
At any commencement on any campus in the U.S., golden yellow trim indicates a degree in sciences or mathematics. When it comes to regalia, everything has meaning: colors, tassels, sleeves, hoods and caps.
The word "regalia" means decorations or insignia indicative of an office, so in academia as in royalty, the more color, ropes, sashes or velvet on the gowns, the higher the academic degree.
Gowns for bachelor's degrees are black with unadorned pointed sleeves. A master's degree gown merits three inches of velvet trim in the color of the college awarding the degree and an oblong sleeve, square-cut at the rear with an arc cut-away at the front.
While first-time graduates enter the auditorium wearing plain black robes, they will be hooded during the ceremony; much like England's most distinguished citizens may be knighted.
A gold cord worn by some undergraduate students indicates graduation with honors: summa cum laude (with highest distinction), magna cum laude (with great distinction) or cum laude (with distinction).
Ph.D. gowns get really "phussy." The wide assortment of attire worn by university faculty, usually seated together during commencement ceremonies, is a showcase of Ph.D. garb.
Bell-shaped sleeves are allowed three bars of velvet, while a five-inch velvet trim of the appropriate color fronts the gown. By the time you add the optional gold tassel, you may find regalia deserving of its own Fiesta float.
Hoods are lined with silk in the official color or colors of the university conferring the degree, thus hoods lined in orange with one white chevron (a V-shaped bar) are the décor of UTSA. Hoods also are edged in velvet of two, three or five inches for the bachelor's, master's and doctoral degrees, respectively. The color of the edging also indicates the subject to which the degree pertains.
And there's more.
Hood length also matters: bachelor's degrees rate a three-foot hood; a master's degree hood earns three and a half feet, while a doctoral degree merits a full four feet of hood. The longer the hood, the higher the degree.
Thus, a three-and-a-half-foot hood, lined in orange silk with one white chevron edged in citron, denotes a UTSA graduate receiving a master's degree in social work.
The caps of baccalaureate degree recipients sport colored tassels indicating the discipline in which the degree was earned. The tassel for graduate degrees is black, except for the gold tassel allowed for doctoral degrees.
Every costume detail is addressed: It's dark colors for shoes and slacks. No flip-flops, no corsages.
Even the university mace has its roots in medieval times when it was a weapon used by mounted knights in Western Europe. Definitely not intended for maintaining order during the ceremony, the university marshal carries the mace to indicate the confirmation of the academic process and the solemnity of the occasion.
One major difference exists between Fiesta and the Order of the University of Texas at San Antonio. While Fiesta royalty reign only a week, a college degree rules a lifetime.