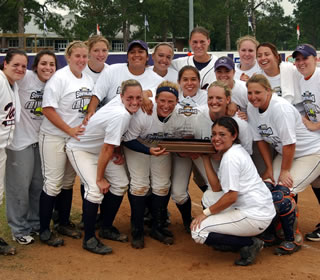 UTSA softball team
UTSA blasts UTA, 8-3, for SLC Tournament title, NCAA berth
By Kyle Stephens
UTSA Sports Information Director
(May 9, 2006)--Freshman Rachel Rackley went 4-for-4 with five runs batted in and senior Amanda Horton blasted two home runs as the UTSA softball team won the Southland Conference Tournament title, 8-3, over Texas-Arlington Sunday afternoon at Demon Diamond in Natchitoches, La.
The Roadrunners, three-time defending SLC regular season champions, earn their second NCAA Tournament berth in the past three seasons and improve to 37-12 on the season. They have won 21 of their last 22 games and finished off a 5-0 season sweep of UTA (32-22).
---
Today's headlines
Article tools
---
Entering the championship game Sunday, UTSA had scored 14 runs off eight home runs in its first three games, all victories. The Roadrunners blasted five more long balls -- two apiece by Horton and Rackley and one by junior Aimee Murray -- to set an SLC Tournament record with 14 round-trippers over the weekend. For the season, UTSA has tied the school and SLC single-season record with 103 home runs. The Roadrunners are averaging 2.10 home runs per game, a mark well ahead of UTSA's NCAA-record 1.87 average posted in 2004.
Back-to-back home runs by Murray to left and Horton to right gave UTSA a quick 2-0 lead after the top of the first inning. Rackley launched her first long ball of the game to dead center field in the second to push the lead to 3-0.
A walk to Horton, a single to left by junior Stevi Simpson and another walk to freshman Brittany Cantu loaded the bases with one out for Rackley, who launched a mammoth grand slam way over the fence in left field to extend the lead to 7-0.
Horton added her second blast in the top of the seventh -- another towering shot to right field -- for her league-leading 18th home run of the year.
Meanwhile sophomore right-hander Amanda Nikolenko cruised through the first six innings, facing two above the minimum in six scoreless frames.
UTA finally broke through in the bottom of the seventh as Jenna Fortune launched a three-run homer to left field that scored Courtni Anderson and Dee Jay Nelson, but Nikolenko and the UTSA defense shut the door with a fly ball and two pop-ups.
Nikolenko won her 13th straight decision and improved to 23-5 on the season, allowing three runs, two earned, on four hits. Laura Jones struck out eight, but was touched for eight runs on 10 hits in falling to 11-7 on the season.
The Roadrunners will find out their NCAA Regional assignment on Sunday, May 14. The Regional will be Friday-Sunday, May 19-21, at campus sites to be determined.
Read more at the UTSA Athletics Web site.
------------------------------
2006 Southland Conference All-Tournament Team
Jessica Els, UTSA (MVP)
Stacey Gillespie, UTSA
Ursula Mares, UTSA
Rachel Rackley, UTSA
Jenna Fortune, UTA
Autumn Petrino, UTA
Jill Garro, UTA
Amy Hromadka, Texas State
Kristin Gunter, Texas State
Alex Newton, Texas State
Brandi Hahn, Nicholls State