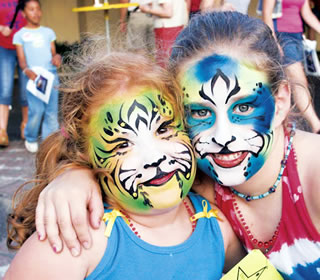 Kids enjoy the Texas Folklife Festival.
Texas Folklife Festival features UTSA Night June 9
By Marianne McBride Lewis
Director of Public Affairs
(May 10, 2006)--If you're like many San Antonians, you have friends from St. Mary's University who invite you to join them each year at the Fiesta Oyster Bake. Now you can return the favor.
UTSA's 35th annual Texas Folklife Festival is June 8-11, and for the second year, UTSA students, faculty and staff can "come home" at "UTSA Night at Texas Folklife Festival" from 5 to 11 p.m., Friday, June 9.
The special night includes discounted admission, a designated UTSA meeting spot, a visit from mascot Rowdy Roadrunner, UTSA cheerleaders and dancers, UTSA give-aways and more. Like Oyster Bake, TFF offers lots of fun for singles and families alike.
---
Today's headlines
Article tools
---
AS UTSA's spring semester winds down with finals, commencement and summer job hunting -- it's a good time to think ahead and get tickets for UTSA Night.
UTSA students, faculty and staff can purchase discounted tickets at the 1604 and Downtown campuses.
At the 1604 Campus, go to the Fiscal Services window, John Peace Library Building Room 1.03.06; the Fiscal Services window, Multidisciplinary Studies Building Room 1.02.32 (enter at the blue awning at the police department) and at the University Center information desk. (Only cash is accepted at the information desk.)
At the Downtown Campus, go to the Fiscal Services window, Frio Street Building Room 1.508.
UTSA Night at TFF admission is:
Adults (13 years and older), $6 ($10 at gate)
Children (6-12 years), $4 (age 5 and under, free)
Limit 10 adult tickets, no limit for children
Sheets of 20 food coupons, $10.
------------------------------
Parking at the Texas Folklife Festival
UTSA parking permit holders can park at the UTSA Downtown Campus and ride the VIA Streetcar Yellow Line to the Texas Folklife Festival. Parking is allowed only in the zone indicated by the parking permit. For example, surface parking permit holders cannot park in the Downtown Campus garage.
The Yellow Route operates 7 a.m.-12:30 a.m., Monday-Friday, and 9 a.m.-12:30 a.m., Saturday and Sunday. Passengers can board the streetcar on Durango Boulevard in front of the Radisson Hotel and disembark at the HemisFair Park stop on South Bowie Street.
VIA's Yellow Line Streetcar runs every ten minutes. The cost is 80 cents, 40 cents for students, children ages 5-11, seniors ages 62 and older, Medicare recipients and people with disabilities.
For information on VIA shuttles from Crossroads Mall, Randolph, Blossom Athletic Center, South San Stadium and other public transit options, visit the VIA Info Web site.
For more information about UTSA parking, visit the Parking and Transportation Web site or call (210) 458-PARK (7275).