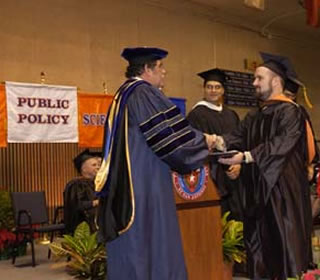 UTSA commencement ceremony, December 2005
UTSA to offer live Webcast of commencement
By Cindy Brockwell
Office of Student Affairs
(May 10, 2006)--A Greenville grandma can watch her grandson walk across the stage at UTSA commencement this week from the comfort of her own home. A hospitalized husband can watch his wife, while a dad in Denver dances with joy as he watches his daughter's long awaited graduation -- all with the click of a mouse.
For the first time ever, UTSA commencement ceremonies will be broadcast live. From South San Antonio to South America to South Africa, friends and family members can visit the UTSA Commencement Web site to join in the celebration.
---
Today's headlines
Article tools
---
UTSA will be in good company as both UT Austin and UT Dallas provide Webcasts of their ceremonies. Computers need RealPlayer to view the ceremonies -- download the free version from the RealPlayer site.
According to Milo Silva, assistant director of planning and engineering in Distance Learning, UTSA will use a portable streaming computer. Ceremonies will be recorded and may be offered on-demand at a later date. Before that can happen, however, the server used by UTSA for WebCT will have to be purged of spring classes to free up space.
------------------------------
UTSA commencement ceremonies
Thursday, May 11, 7 p.m.
College of Business -- Accounting, Economics, Finance, Information Systems, Management Science and Statistics, College of Business doctoral candidates.
Keynote speaker: Rosalie N. Ambrosino, UTSA provost and vice president for academic affairs
Friday, May 12, 7 p.m.
College of Business -- Management, Marketing, College of Business MBA candidates
Keynote speaker: James S. Kahan, senior executive vice president, corporate development, AT&T
Saturday, May 13, 9 a.m.
College of Architecture, College of Education and Human Development
Keynote speaker: Juan C.Gonzalez, vice president forstudent affairs, UT Austin
Saturday, May 13, 1 p.m.
College of Sciences, College of Liberal and Fine Arts -- Art and Art History, Communication, English, Classics amd Philosophy, Modern Languages and Literatures, Music
Keynote speaker: Anthony J. Infante, president, Southwest Foundation for Biomedical Research
Saturday, May 13, 5 p.m.
College of Engineering, College of Public Policy, College of Liberal and Fine Arts -- Anthropology, History, Political Science and Geography, Psychology and Sociology
Keynote speaker: Rosalie Ambrosino, UTSA provost and vice president for academic affairs