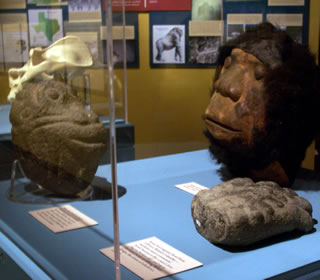 Bigfoot exhibit at UTSA's Institute of Texan Cultures
View at video on the "Bigfoot in Texas?" exhibit:
Segment 1
,
Segment 2
"S.A. Living," WOAI-TV, 5/15/06
Speakers discuss Bigfoot phenomenon June 3 at ITC
By Alison Beshur
Public Affairs Specialist
(June 2, 2006)--UTSA's Institute of Texan Cultures (ITC) will host two speakers for a presentation on "Cultural and Sociological Phenomenon of Bigfoot" from 1 p.m. to 5 p.m., Saturday, June 3 at the institute, 801 S. Bowie St. in downtown San Antonio.
Loren Coleman is a world-renowned cryptozoologist, field researcher and award-winning author. He has written hundreds of papers and more than two dozen books on a variety of subjects, including Bigfoot and other unidentified creatures, the copycat effect and social problems, such as suicide clusters and teen suicide. One of Coleman's most popular books, "Tom Slick: True Life Encounters in Cryptozoology," is a true tale about Slick, founder of Southwest Research Institute in San Antonio, and his search for the Yeti.
---
Today's headlines
Article tools
---
Coleman also is the author of two recent Sasquatch books, "Bigfoot! The True Story of Apes in America," (2003) and "The Field Guide to Bigfoot and Other Mystery Primates" (2006).
Benjamin Radford is the managing editor of The Skeptical Inquirer and Spanish-language Pensar, and author of dozens of articles on urban legends, mass hysteria, mysterious creatures and media criticism. In his writings, Radford has criticized the use of folklore and eyewitness accounts as evidence of the existence of Bigfoot and has cautioned that some seemingly irrefutable evidence later turns out to be a prank or hoax. Radford is the co-author of "Lake Monster Mysteries" (2006).
This is the third in a four-part speaker series held in conjunction with the museum's "Bigfoot in Texas?" exhibit, which runs through July 30. Although ITC is working with the Texas Bigfoot Research Center to produce the exhibit, it is not taking a stand on the existence or non-existence of Bigfoot.
Museum admission is $7 adults, $4 children ages 12 and younger, seniors ages 65 and older, and military with ID, and free for UTSA students, faculty and staff with UTSACard.
For more information, visit the Institute of Texan Cultures Web site or call (210) 458-2330.