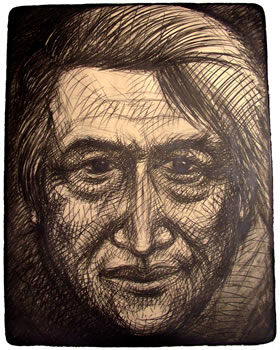 Top: Drawing of Cesar Chavez by Luis Jimenez
Middle: UTSA President Ricardo Romo with Jimenez at
UTSA drawing studio
Bottom: Jimenez works on drawing at UTSA
Creator of two UTSA sculptures dies in New Mexico accident
By Tim Brownlee
Assistant Director of Public Affairs
(June 20, 2006)--Internationally known artist Luis Jimenez, creator of two well-known sculptures displayed on the UTSA 1604 Campus, died Tuesday, June 13 after an accident in his Hondo, N.M., studio. As a sculpture piece was being moved, it pinned the 65-year-old artist, and he died before it could be removed.
Jimenez' fiberglass sculpture, "Fiesta Dancers" was commissioned by UTSA in 1996 and stands next to the University Center at the 1604 Campus. A second work, "Crossing the Border," is on loan to the university and overlooks Sombrilla Plaza at the 1604 Campus.
---
Today's headlines
Article tools
---
One of Jimenez' last pieces, a portrait of Chicano labor activist Cesar Chavez, recently was completed at UTSA as part of the university's South Texas print series.
"Luis Jimenez was one of the real pioneers of Southwest border art," said UTSA President Ricardo Romo in a San Antonio Express-News story. A longtime friend of the artist, Romo said Jimenez is "one of the big three in Chicano art -- in my book, he's one of the best we've ever had."
"Luis and I and Neal Cox, a print instructor in our department, worked closely in the past year," said Kent Rush, UTSA professor and chair of the Department of Art and Art History. "He was a great person and someone we both felt fortunate to know. It is shocking to me to lose him. He is one of those people who we thought would always be there. I use the catalog from one of his shows to show my students examples of good drawings."
"Meeting Luis Jimenez a few years ago was like being in an interview," said Arturo Almeida, curator of the UTSA art collection. "He had worked closely with UTSA for many years, and he wanted to be sure my goals and plans would be good for UTSA. It was thrilling for me to work with such a master of the arts."
Jimenez was born in El Paso, Texas, and was a longtime New Mexico resident. He received a bachelor of arts degree in art and the University of Texas at Austin. He is known nationally and internationally for his large-scale sculptures depicting ordinary people. Working with such themes as the treatment of Native Americans and the elderly, he drew on his youth for inspiration.
His work was displayed at the Museum of Modern Art, and he participated in many one-man exhibitions including "Man on Fire" at the Albuquerque Museum and the Smithsonian. Additionally, he was commissioned to create works for the cities of Corpus Christi, New York and Denver.