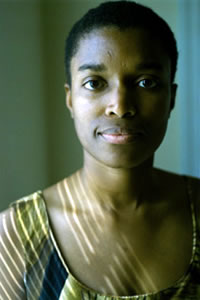 Sonja Lanehart
Linguistics scholar named UTSA Brackenridge chair
By Cindy Brockwell
Development Assistant, Office of Student Affairs
(June 12, 2006)--The University of Texas at San Antonio today announced the selection of a nationally respected linguistics scholar, Sonja Lanehart, as the inaugural holder of the Brackenridge Endowed Chair in Literature and the Humanities in the Department of English, Classics and Philosophy.
Sonja Lanehart, author of "Sista, Speak! Black Women Kinfolk Talk about Language and Literacy," will join UTSA this fall where she will teach undergraduate and graduate courses in English literature and linguistics, humanities and African American studies.
---
Today's headlines
Article tools
---
Currently an associate professor of English language studies and linguistics at the University of Georgia, Lanehart received her B.A. in English at the University of Texas at Austin. A Houston native, she earned master's and doctoral degrees in English language and literature at the University of Michigan.
"I am looking forward to being the first to hold the Brackenridge Endowed Chair at UTSA, where I will be able to collaborate with many wonderful researchers," Lanehart said. "The growth and possibilities at UTSA are exciting, and I cannot wait to begin contributing to its mission."
Lanehart's teaching will focus on research methods and methodology, language and uses of literacy, sociolinguistics, English language variation and standardization, and the history of the English language. Additionally, she will add several new courses to the UTSA curriculum and will play an important role in mentoring English master's and doctoral students.
"Sonja Lanehart is an outstanding intellectual with a national reputation," said Dan Gelo, dean of the UTSA College of Liberal and Fine Arts. "Dr. Lanehart's research and teaching are creative and interdisciplinary, involving literature, language, education, women's studies and African American studies. As the Brackenridge Chair, she will bring further distinction to the English doctoral program and enhance all the humanities disciplines at UTSA."
Lanehart co-edits the Research News and Comments section of the American Educational Association's journal, Educational Researcher.
The Brackenridge Endowed Chair in Literature and the Humanities was funded by grants from the George W. Brackenridge Foundation and the National Endowment for the Humanities.
The UTSA Department of English, Classics and Philosophy previously benefited from Brackenridge Foundation endowment gifts that established the George W. Brackenridge Distinguished Visiting Professorship in the Humanities and the Sue E. Denman Distinguished Chair in American Literature.