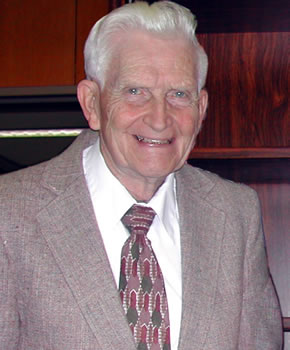 Paul Westmeyer
UTSA Associate Dean Paul Westmeyer dies May 28
By Lorrie Smith
Senior Administrative Associate, College of Education and Human Development
(June 2, 2006)--Paul Henry Martin Westmeyer, a teacher, scholar and longtime resident of Pipe Creek, died Sunday, May 28 at his home.
Born December 9, 1925, in Dilsboro, Ind., Westmeyer was UTSA associate dean for graduate studies and research, professor of education and graduate adviser for the College of Education and Human Development. He earned a B.S. degree (1949) and an M.A. degree (1953) from Ball State University in Muncie, Ind., and an Ed.D. from the University of Illinois (1960).
---
Today's headlines
Article tools
---
While working toward a master's degree, Westmeyer taught for five years in the high school and junior high school at North Vernon, Ind. He was a part-time instructor at Purdue University and later taught at the University of Illinois at Urbana-Champaign and the University of Texas at Austin.
At the end of his third year at UT Austin, Westmeyer was invited to become chairman of the Department of Science Education at Florida State University and served in that position until he came to The University of Texas at San Antonio in 1973.
At UTSA, Westmeyer authored numerous books and articles on adult and higher education and science education and served in a variety of professional organizations. Most recently, he taught courses in research methods and statistics in education.
All who were fortunate enough to know him will miss him greatly. He modeled grace, dignity, integrity and deep commitment to his family, colleagues and students, and compassion for all. Westmeyer was truly a good man and he lived his life with enthusiasm.
He was a member of the Melodiers at the Silver Sage Senior Center, Ukulele Ladies and Gents, and Tuesday Twirlers Round Dance Club. He danced, played the ukulele, taught Sunday school classes, loved his family and enjoyed his work at UTSA. He was an inspired wood carver and carved himself gently and permanently into the hearts and souls of all who knew him.
He was preceded in death by his wife, June Kay Westmeyer, and is survived by three daughters, Jean Jacobs and husband John of Tallahassee, Fla., Crystal Westmeyer of Pipe Creek, and Paula Melton of Ratcliff; three sons, Paul Joseph Westmeyer and wife Angel of Pipe Creek, Kenneth Martin Westmeyer of Pipe Creek, and Henry Matthew Westmeyer and wife Elisha of Pipe Creek; sister, Evelyn Bascom of Dilsboro, Ind.; grandchildren, Benjamin Jacobs and wife Sunshine, Jeffrey Jacobs, Justin Westmeyer, Ariel Westmeyer, Lon David Westmeyer, Paul Nathan Westmeyer, and Alicia Melton and great-grandchildren, Genevieve and Oliver Jacobs.
A memorial service is 7 p.m., Friday, June 2 at Shepherd of the Hills Lutheran Church, 6914 Wurzbach Rd., San Antonio, Texas 78229. In lieu of flowers, the family has requested that donations be sent in his name to: Navajo Evangelical Lutheran Mission, P.O. Box 354, Highway 191, Rock Point, Ariz. 86545 or the Southwest Indian Foundation, P.O. Box 86, Gallup, N.M. 87305.