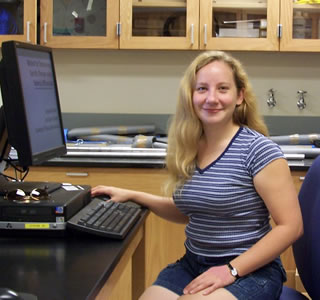 Evelynn Mitchell
(Photo by Evangelina Williams)
UTSA Close-Up: Graduate student Evelynn Mitchell is checking out the waves in the Edwards Aquifer
By Evangelina Williams
Public Affairs Intern, College of Liberal and Fine Arts
(July 27, 2006)--Surrounded by maps of aquifers and wells, Evelynn Mitchell spends most of her days in a UTSA science lab full of computers and mapping equipment.
A doctoral student working on her dissertation, Mitchell also is a scientist developing a more efficient method to determine the storage capacity of the Edwards Aquifer, San Antonio's water source, based on pressure waves generated by seismic activity.
---
Today's headlines
Article tools
---
The aquifer is composed of fractured limestone that filters and stores water. The recharge and artesian areas of the aquifer underlie six counties in south-central Texas.
The National Ground Water Research and Education Foundation recently recognized Mitchell's excellent work. Her paper, "Methods for Determining Specific Storage Using Seismic Efficiencies," was judged as a great contribution to the field of environmental science and won her a $250 scholarship.
"The purpose of my work is to provide a practical method for measuring the storage capacity of a confined aquifer," Mitchell said. "Different portions of the aquifer may have different storage properties. This information will aid agency personnel in determining where in the Edwards it will be most efficient to extract."
The method she is developing is important because currently there is no reliable way to determine an aquifer's storage capacity. Storage constants are values used in aquifer modeling, and policy makers use these models to make decisions about community water usage.
Mitchell moved to San Antonio in 1998 to begin her studies at UTSA. She has bachelor's and master's degrees in physics and hopes to teach at a university after she completes her doctorate in environmental science and engineering.