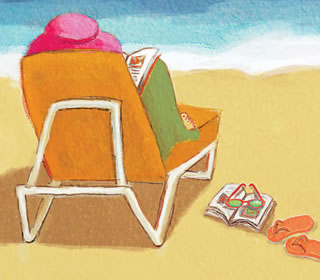 Summer Reading: Must-read lists from UTSA faculty
(July 24, 2006)--Recently, we asked UTSA faculty members to send us their personal summer reading lists, and here are the responses.
---
Today's headlines
Article tools
---
If you are a member of the UTSA community or alumni, e-mail your list of must-reads for the summer, a short comment on each book, your name, and title or year in school to UTSA Today, and it will be considered for posting.
Visit the UTSA Library for books on the summer reading lists. If the libraries do not have a book you want, the interlibrary loan and TexShare resource-sharing programs will locate and bring in books for check-out by UTSA faculty, staff and students. For more information or to check on a title, call the reference desk at (210) 458-4573.
----------------------------------------
Raymond Baird, professor of psychology
"The Future for Investors: Why the Tried and the True Triumph Over the Bold and the New" by Jeremy Siegel
"Cow People" by J. Frank Dobie
"The Moon's a Balloon" by David Niven
"The Old Man and the Boy" by Robert Ruark
"Power Elite" by C. Wright Mills
Wendy Barker, professor of English, classics and philosophy
"Some of them I've read before, and I just like to re-read them."
"The Book of Nothing: Vacuums, Voids and the Latest Ideas About the Origins of the Universe" by John D. Barrow
"The Winds of Change: Climate, Weather, and the Destruction of Civilization" by Eugene Linden
"The Weather Makers: How Man Is Changing the Climate and What It Means for Life on Earth" by Tim Flannery
"Field Notes from a Catastrophe: Man, Nature and Climate Change" by Elizabeth Kolbert
"Ice: The Nature, History and the Uses of an Astonishing Substance" by Mariana Gosnell
"The True Dharma Eye: Zen Master Dogen's Three Hundred Koans" by John Daido Loori
"In The Blue Pharmacy: Essays on Poetry and Other Transformations" by Marianne Boruch
"The Nothing That Is: A Natural History of Zero" by Robert Kaplan
The Cloudspotter's Guide: The Science, History and Culture of Clouds" by Gavin Pretor-Pinney
"Man in the Landscape: A Historic View of the Esthetics of Nature" by Paul Shepard
"Ravishing DisUnities: Real Ghazals in English" by Agha Shahid Ali (ed.)
"Death's Door: Modern Dying and the Ways We Grieve" by Sandra M. Gilbert
"Color: A Natural History of the Palette" by Victoria Finlay
"Doing Nothing: A History of Loafers, Loungers, Slackers and Bums in America" by Tom Lutz
"Color and Culture: Practice and Meaning from Antiquity to Abstraction" by John Gage
"Bright Earth: Art and the Invention of Color" by Philip Ball
Edwin Barea-Rodriguez, associate professor of biology, Neurobiology of Aging Lab
"How Full Is Your Bucket? Positive Strategies for Work and Life" by Tom Rath, Donald O. Clifton
"The Present: The Secret to Enjoying Your Work And Life, Now!" by Spencer Johnson
"Whale Done! The Power of Positive Relationships" by Kenneth Blanchard, Thad Lacinak, Chuck Tompkins, Jim Ballard, Ken Blanchard
William Flannery, associate professor and coordinator of Management of Technology Program
"Math and the Mona Lisa: The Art and Science of Leonardo da Vinci" by Bulent Atalay
"I read this before and after reading Dan Brown's 'The Da Vinci Code.' Atalay provides an interesting framework that enriches the reading of 'The Da Vinci Code.' This is a serious but entertaining book that examines Da Vinci's contributions to math, science and art and his ability to link the three elements."
Kolleen Guy, associate professor of history
"Inferno" by Chuck Bowden with photos by Michael Berman
"This book is brilliant. Between the spectacular pictures and Bowden's powerful prose, I couldn't put this book down. Bowden's words and Berman's photos mesh to tell the story of a place that is incredibly desolate and that few care about, but that has a rich texture and deep beauty, if you care to look. They examine the southern deserts of Arizona and together create a unique view of one of the most inhospitable places in the Southwest."
"Who Guards the Guardians and How: Democratic Civil-Military Relations" By Thomas Bruneau and Scott Tollefson
"This book changed the way that I have come to think about the balance between civilian governments and their militaries. How do we find a balance between the sometimes conflicting needs of 'democracy' and 'stability?' Many will be surprised by the answers in this well-written book."
"Leavin' a Testimony: Portraits from Rural Texas" by Patsy Cravens
"Sometimes the most interesting places to travel are close to home. In southeastern Texas, there are dozens of small communities that have persisted despite poverty and pain. Cravens has collected these peoples' fascinating stories and photographed folks in these communities. The strength and wisdom of their lives comes out in full force in their own words. This is a book that will inspire."
Victor Heller, associate professor of marketing
"Moral Courage" by Rushworth M. Kidder
"Winners Never Cheat" by Jon M. Huntsman
"Ethics 101" by John C. Maxwell
Rosalind Horowitz, professor of discourse and literacy studies
"The Mind At Work: Valuing the Intelligence of the American Worker" by Mike Rose
"The American worker such as the welder, the carpenter or the cook at a local diner may be regarded as having low intelligence. Rose skillfully articulates why the American worker may be highly intelligent and have a mind we have rarely considered in the psychology of learning and motivation."
"The Art of Possibility" by Rosamund Stone Zander and Benjamin Zander
"This book promises to open your mind to the possiblities that surround you but may not be so visible. It offers new visions of the world and life."
"Gesture and Thought" by David McNeal
"This book presents a conceptualization of gesture as imagery and an integral part of the communication system, synchronized with languge rather than simply a redundant attribute of speech. McNeal resides at The University of Chicago and is one of the leading experts in the world on the human gesture."
"The Woman's Retreat Book: A Guide to Restoring, Rediscovering, and Reawakening Your True Self -- In a Moment, an Hour, a Day or a Weekend" by Jennifer Louden
"This book is a winner for women wanting that escape away from spouse, lover, children, friends, work and, above all, stress."
"Benjamin Franklin: In Search of a Better World" by Page Talbott
"Benjamin Franklin (1706-1790) was one of the most remarkable figues in American history -- an author, investor, statesman, diplomat and model for posterity of how to live life as an American."
"Maimonides" by Sherwin B. Nuland
"Maimonides was a Rabbinic scholar reknowned for his commentaries on the Bible. He lived as a Jew in a Muslim world, and was a physician and philosopher who attempted to reconcile scientific knowledge with religious faith. The author of this book is also a physician-surgeon who gives a portrait of the life of Maimonides in light of his own life."
Rachel Jennings, lecturer, Department of English, Classics and Philosophy
"A Death in the Family" by James Agee ("This book conveys the beauty of the ordinary.")
"Selected Poems, 1968-1986" by Paul Muldoon ("an Irish poet at his best -- moving, profound")
"Scene from the Movie Giant" by Tino Villanueva ("So powerful and evocative, concerns life in segregated Central Texas in the 1950s")
"The Candy Vendor and Other Stories" by Beatriz de la Garza ("complex short stories,sharply written, highly descriptive, the stories concern race and class in 20th-century Texas")
"Dancing with the Devil" by Jose E. Limon ("Who could resist reading this ethnographer's account of devil sightings in San Antonio and South Texas over several summers in the late 1970s and early 1980s?")
"Remembering the Alamo" by Richard R. Flores ("another ethnography -- this one concerning the meanings attached by Anglos and Mexican Americans to different narratives of the Alamo's history")
"Thirty and Seen a Lot" by Evangelina Vigil-Pinon ("Thirty seems young to have 'seen a lot,' but this poet writes beautiful, poignant lines about San Antonio.")
"The Dollmaker" by Harriette Arnow ("powerful novel about migration from Appalachia to Detroit")
"Biko" by Donald Woods ("This biography of anti-Apartheid activist Steve Biko is a cautionary tale about racism, torture and the power of the State.")
"Brownsville" by Oscar Casares ("sad, funny, beautifully crafted short stories about Brownsville, Texas")
"Jump and Other Stories" by Nadine Gordimer ("These short stories are about moral choices in Apartheid-era South Africa.")
Stephanie Keller, psychology lecturer
"The Screwtape Letters" by C.S.Lewis
"Charlie and the Chocolate Factory" by Roald Dahl ("I read it every summer.")
"Tales of the Unexpected" by Roald Dahl (anthology for adults)
"A Collection of Short Stories" by Oscar Wilde
"Collected Poems, 1909-1962" by T.S. Eliot
"A Room with a View" by E.M. Forster ("...since I never read it in high school")
Steven Kellman, professor of comparative literature
"Suite Francaise" by Irene Nemirovsky
"When she died in Auschwitz in 1942, Nemirovsky left behind the manuscript of this novel about the German occupation of France that is only now being published. Though incomplete, it bears comparison with the great French novels of the 19th century."
"The Tango Singer" by Tomas Eloy Martinez
"An American scholar travels to Buenos Aires to do research on the tango and Argentine writer Jorge Luis Borges and ends up undergoing experiences that might have been lifted out of one of the Argentine fabulist's own fantastic fictions."
"Doing Nothing: A History of Loafers, Slackers and Bums in America" by Tom Lutz
"An energetic study of the work ethic and those who have defied it during the past three centuries in the United States."
"Betraying Spinoza: The Renegade Jew Who Gave Us Modernity" by Rebecca Goldstein
"Blends memoir, biography, fiction and philosophy in an effort to understand the elusive 17th-century Dutch philosopher who was excommunicated from the Sephardic community he grew up in."
"Absurdistan" by Gary Shteyngart
"A comic romp by the Russian emigre novelist following his tumultuous debut with 'The Russian Debutante's Handbook.'"
"The Road" by Cormac McCarthy
"McCarthy's latest novel, this is likely to be intense, violent, Southwestern and worth reading."
"Strange Piece of Paradise" by Terri Jentz
"A chilling memoir about a woman's attempt to track down the miscreant who, during a cross-country bicycle trip decades before, attacked her and her friend with an ax."
"Friendship" by Joseph Epstein
"Epstein, one of the finest contemporary essayists, last published a book called 'Envy,' and his latest nonfiction project seems likely to exhibit more of his enviable literary talent."
Ashwani Monga, assistant professor of marketing
"Freakonomics" by Levitt and Dubner
"Very entertaining for a non-fiction book. Although not all chapters are enlightening, some do provide the 'wow' experience."
"Angels and Demons" by Dan Brown
"If you liked the more famous 'Da Vinci Code,' you'll love this as well -- similar style of puzzles and surprising twists. Will make a great movie."
Consuelo Ramirez, senior lecturer in management
"Stumbling on Happiness" by Daniel Gilbert
From the editors: "An explanation of why the grass grows greener until you get there and why unhappiness never lasts as long as we think it will. Brilliantly original, yet solidly grounded in science."
Alan Shoho, associate professor of educational leadership and policy studies
"The World is Flat: A Brief History of the Twenty-First Century" by Thomas L. Friedman
"This book illustrates the great changes taking place and how our world is becoming smaller and more interconnected."
"Big Russ and Me, Father and Son: Lessons of Life" by Tim Russert
"Shares some of the lessons passed on by what Tom Brokaw has labeled as the 'Greatest Generation.'"
L.J. Shrum, professor of marketing
"Good of Small Things" by Arundhati Roy
"Fun Home" by Alison Bechdel
"Wicked" by Maguire
"Curious Incident of the Dog in the Nighttime" by Mark Haddon
Bill Spruce, management lecturer
"To Rule the Waves" by Arthur Herman
"It's available in paperback and is the story of Britain's rise as a naval power. Very readable."
Marye Tharp, visiting associate professor of marketing
"1491: New Revelations of the Americas before Columbus" by Charles C. Mann
"This book shakes up all we've been taught about North America being basically an empty continent when Columbus arrived. It is based on archeological discoveries of recent years and is an engaging read."
"Collected Stories of Amy Hempel" by Amy Hempel
"Just plain good writing that makes me laugh and cry."
"A General Theory of Love" by Thomas Lewis et al
"A book describing how the brain works and how our environment changes its shape. Fascinating and wonderful writing that uses easy-to-understand metaphors for highly complex processes... couldn't put it down, to my surprise. Won't save your marriage but will give you insight into your own brain and behavior patterns."