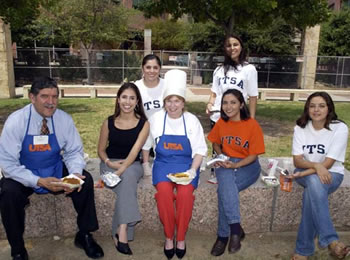 UTSA President Ricardo Romo (left) and Associate Professor
Harriett Romo (center) with students at Roadrunner Days 2004
Tout UTSA student services at Roadrunner Days events
By Cindy Brockwell
Development Assistant, Office of Student Affairs
(July 14, 2006)--Roadrunner Days, the official UTSA kickoff for the new academic year, adds excitement to the campuses as we welcome new and returning students with a great variety of events.
---
Today's headlines
Article tools
---
UTSA departments that provide services to students are invited to advertise these services at two Roadrunner Days events this year.
A six-foot table will be provided to display information and to distribute promotional items to the students:
1604 Campus: Service/Vendor Fair, Recreation Center, 10 a.m.-2 p.m., Tuesday, Aug. 22
Downtown Campus: Welcome Back Party, Bill Miller Plaza, 3-5 p.m., Thursday, Aug. 24
The events offer a unique opportunity to get your message to the 4,000 students who are expected to attend these events. The Roadrunner Days committee hopes to provide as much information as possible to our new students as they embark on their educational journeys at UTSA.
If your department provides services to students, you play a vital role in helping them to succeed.
To participate in the Roadrunner Days events, download and complete the information table registration form, and return it to Lisa Blazer by Aug. 1.
For more information, contact Lisa Blazer, UTSA assistant vice president for student financial aid and enrollment services, at (210) 458-4846.