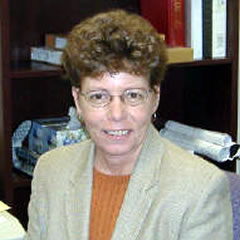 Top photo: Jane Wilcox
Bottom photo: Kerry Kennedy and Wilcox
Celebrating Excellence: Jane Wilcox demonstrates leadership, innovation and creativity
(July 12, 2006)--Jane Wilcox, UTSA assistant director of parking and transportation services, is the third-quarter recipient of the Celebrating Excellence Award, presented by the Office of the Vice President for Business Affairs.
Though only at UTSA for five months, Wilcox has demonstrated leadership, innovation and creativity in motivating Parking and Transportation Services personnel, improving collections and achieving improved customer service.
---
Today's headlines
Article tools
---
She consistently empowers department staff, resulting in significantly improved morale. She doesn't step in to do it herself, but coaches staff members in techniques for responding to customers, encourages them to handle customer-service issues, and praises them as they step up to take on responsibility.
Wilcox initiated a contest among the parking controllers to rename their position, since "PC" makes one think of a computer and not a person responsible for the important activity of issuing citations and providing customer service in the field. After many creative submissions, the parking controllers are now "parking assistants."
Working with the Office of the Vice President for University Advancement, the Office of the President, Student Affairs and others, Wilcox undertook a project to collect unpaid citations. The project required extensive work to assure that these offices were advised and had input.
She also worked with the Office of Legal Affairs and provided information to the UT System's Office of General Counsel to assure all requirements were met to provide a mechanism for obtaining needed information from the Department of Transportation and other state entities.
The first phase of the project is complete and netted more than $26,000. Wilcox identified the issue, formulated a path forward, collaborated with others throughout the university and took all steps necessary to make it happen. She then followed the collection of funds due to the university, then identified and took necessary actions to establish new processes and procedures to assure proper future handling of unpaid citations. It is a successful project!
Wilcox also developed and implemented the use of a unique logo for the Office of Parking and Transportation Services that assists customers in identifying the office. Additionally, she took action to revamp the parking and transportation services Web site that soon will be ready for rollout. To build UTSA spirit, she used her creativity and developed new artwork for the parking permit that incorporates Rowdy Roadrunner.
According to Kerry Kennedy, UTSA vice president for business affairs, "Jane Wilcox consistently has a positive attitude, demonstrates a passion for the work that she does and inspires those around her. Thank you and congratulations, Jane, for all you hard work and service to the university and Business Affairs."