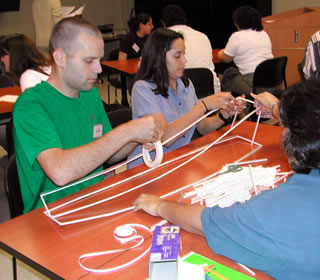 A-TEP students Bob Haak and Natalie Salazar at a
recent model making professional development seminar.
Go to the head of the class--as a teacher
By Cindy Brockwell
Student Affairs Development Assistant
(Aug. 14, 2006)--For college graduates considering a career change, UTSA may have the answer for you. Attend an information session at the 1604 or Downtown campus to learn about the Accelerated Teacher Education Program (A-TEP).
---
Today's headlines
Article tools
---
A-TEP will facilitate your teacher preparation and certification process. With 18 months of professional development and a paid internship, you will be ready to apply for a secondary teaching certificate issued by the Texas State Board of Educator Certification.
A $4,000 stipend is available to help pay for your books, tuition and related fees. You may also apply for financial aid. In return, you make a commitment to teach math or science for three years in a high-need school district in San Antonio. UTSA's partner school districts include the Edgewood, Harlandale, San Antonio, Southside and Southwest ISDs.
A series of information sessions about this program offered by UTSA's Academy for Teacher Excellence in the College of Education and Human Development begin at 6 p.m., Tuesday, Aug. 15, at the Downtown campus, Frio Street Building 3.402. Additional information sessions are planned through August and September. For more information, call (210) 458-6170, or go to Accelerated Teacher Education Program Web site.