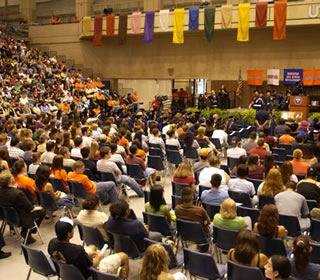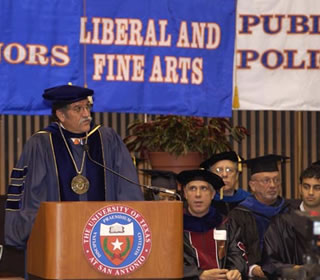 Fall Convocation 2005
Roadrunner Days: Fall Convocation and college orientations on Monday
By Patricia Graham
Executive Director, Special Events Center
(Aug. 17, 2006)--The Fall Convocation, an assembly for the entire university which launches the new academic year, is set for 10 a.m., Monday, Aug. 21, at the Convocation Center at the 1604 Campus. All members of the UTSA family--students (particularly new students), faculty and staff from the UTSA Tri-campuses--are encouraged to attend.
The theme of Fall Convocation 2006 is "Your Journey Begins" with George C. Wright, Prairie View A&M University president, as the keynote speaker.
---
Today's headlines
Article tools
---
Students will sit with their colleges. Faculty and staff are encouraged to march in the convocation processional, wearing either academic regalia or UTSA colors. The processional will form in the University Center west wing first floor at 9:30 a.m. The convocation will be followed by college orientations.
In academia, the word "convocation" refers to a ceremonial assembly of the members of a college or a university. Traditionally, academic convocations celebrate special events or launch a new academic year.
In its 37-year history, UTSA has held six convocations, beginning with the Silver Anniversary Convocation in 1994. At the 1999 convocation, Ricardo Romo was inaugurated as the university's fifth president.
Fall Convocation 2006 is UTSA's fifth annual ceremony to launch the academic year. An academic convocation can be a significant occasion for student participation, marking a first step in the higher education adventure. Fall Convocation 2006 will be a wonderful opportunity for the UTSA family to celebrate the Class of 2010's first step.
Following the convocation, students will eat lunch at their colleges and meet with key faculty and staff at the college orientations from 11:30 a.m. to 2 p.m.--a great opportunity for students to become familiar with their colleges and professors.
Students of the College of Public Policy and the College of Architecture, located at the Downtown Campus, will take special charter buses to the Downtown Campus following the convocation. Students will eat lunch, attend college orientation and then return to the 1604 Campus following orientation.
University Communications
Contact Us