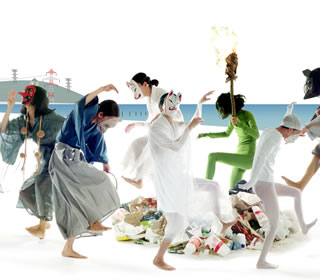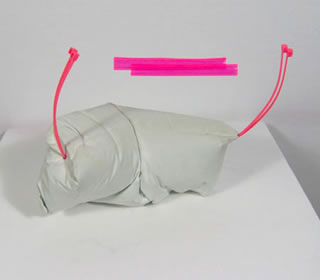 (Top) "Parade" by Mimi Kato
(Bottom) "Ephemerali 2" by Brian Jobe
Grona Gallery hosts exhibits by UTSA graduates
By Tim Brownlee
Assistant Director of Public Affairs
(Aug. 14, 2006)--Mimi Kato and Brian Jobe, two May 2006 graduates of the UTSA master of fine arts program, are showing their art this month at the Joan Grona Gallery in the Blue Star Arts Complex.
Jobe's sculpture exhibit, "Ephemerali," can be seen through Friday, Aug. 25. Kato's photograph exhibit, "Yokai Zyukkei: Scenery with Monsters," can be viewed through Aug. 26.
---
Today's headlines
Article tools
---
According to Jobe, his sculptures present viewers with a sense of order through the assemblage of materials. "I channel compulsive energy into meticulous organization," said Jobe. "Ordered systems in nature, like fractals, motivate my constructions. These systems expose life's minutiae, a hidden life beneath the surface."
Jobe earned a B.F.A. in 2004 at the University of Tennessee in Knoxville. He has shown his work in numerous group and solo exhibition in San Antonio and in Tennessee. Kato describes the works in this exhibit as "monsters that used to live close to my life."
"These monsters that are disappearing from the imagination of contemporary society were man's friends," said Kato. "They were something to be scared of, and their stories facilitated the moral teaching of children. I experienced them in an intimate way through storybooks during my childhood, just imagining them to appear in front of me. Now, I hardly see them anywhere in our world. These monsters could not keep up with modern fast-paced life... In this work, I brought them back to our time now, depicting them living in a contemporary context."
The Joan Grona Gallery is at Blue Star Arts Complex Suite 112 at South Alamo and Probandt streets in downtown San Antonio. Gallery hours are 10 a.m.-5 p.m., Wednesday-Saturday, noon-5 p,m., Sunday, or by appointment.
For more information, call (210) 225-6334.
University Communications
Contact Us