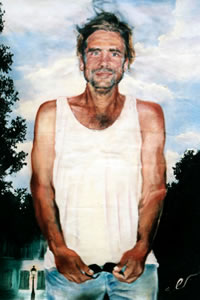 Top: photo of boys in Jalisco by Ricardo
Romo; middle: painting of labor activist
Cesar Chavez by Jesse Trevino; bottom:
painting by Elizabeth Rodriguez
Joan Grona Gallery spotlights Ricardo Romo photos
By Tim Brownlee
Assistant Director of Public Affairs
(Aug. 30, 2006)--The Joan Grona Gallery will present an exhibit of photographs by UTSA President Ricardo Romo, charcoal and giclee prints by local artist Jesse Trevino and oil paintings by local artist Elizabeth Rodriguez from Aug. 31 to Sept. 30.
Romo's photos, which were taken in Jalisco, Mexico, are for sale at the gallery with proceeds benefiting the UTSA-Fox Tech Scholarship Fund. Romo is a graduate of San Antonio's Louis W. Fox Technical High School, known as Fox Tech.
---
Today's headlines
Article tools
---
An opening reception, free and open to the public, is 6:30-8:30 p.m., Thursday, Aug. 31.
According to exhibit curator and UTSA art specialist Arturo Almeida, "I wanted to put together the work of these artists because they are all from San Antonio's West Side, and their work captures the spirit of Mexican and Mexican-American culture."
Ricardo Romo developed an interest in photography while a student at UT Austin in the 60s. He earned a bachelor's degree at UT Austin, a master's degree in history at Loyola Marymount University and a Ph.D. in history at UCLA, where he taught and authored "East Los Angeles: History of a Barrio."
After serving as vice provost for undergraduate education at UT Austin, Romo returned to San Antonio in May 1999 to become UTSA's fifth president. His photographs have been exhibited at various venues throughout the city including the Instituto de Mexico and the Joan Grona Gallery.
Jesse Trevino has been dubbed the artist laureate of San Antonio. A promising artist before he lost his painting hand in Vietnam, Trevino's victorious struggle to adapt to that loss has been an inspiration. Painting from photographs in the photorealistic tradition, two of his paintings are in the collection of the Smithsonian's American Art Museum.
In recent years, he became known for his building-size murals and mosaics. His work, "Spirit of Healing," on Santa Rosa Children's Hospital has become a San Antonio landmark. The mural consists of more than 150,000 hand-cut ceramic tiles and stands more than 90 feet tall, making it one of the largest murals in North America.
The creative genius of Elizabeth Rodriguez was unleashed by cows. When she took up painting in 1996 on her Marshall, Texas, ranch, there were few humans nearby, so animals became her subjects. Then, she lived in Amsterdam and Harlem, Holland, where she was fascinated by the intricate still lifes, attention to detail and controlled brush strokes of Dutch painters.
As she studied in museums, the precise, structured and detailed style of the Dutch artists emerged in her paintings. After returning to San Antonio, Rodriguez' work with Trevino inspired ventures into other media including murals and mosaics. She was one of several painters of the Goodwill Lions mural in downtown San Antonio and taught a children's class on mosaics. Her paintings have been showcased in San Antonio at UTSA, several community colleges and in the downtown area.
The exhibit also includes several etchings by Mexican artist Myrna Lagunes.
The Joan Grona Gallery is in Blue Star Arts Complex Suite 112 at South Alamo and Probandt streets in downtown San Antonio. Established in 1992, the gallery represents established and emerging local, national and international artists whose innovative works include paintings, sculpture, photography, installations and works on paper. Gallery hours are 11 a.m.-5 p.m., Wednesday-Friday, 11 a.m.-6 p.m., Saturday and noon-4 p.m., Sunday, or by appointment. For more information, call (210) 225-6334.
For more information about photograph purchases, contact Arturo Almeida at (210) 458-4983.
University Communications
Contact Us