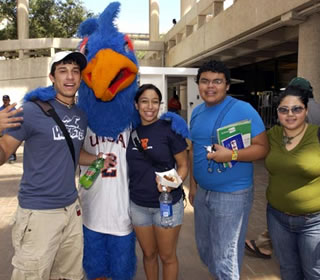 Roadrunner Days 2005
Roadrunner Days: Fairs tout organizations, services, majors
By Cindy Brockwell
Student Affairs Development Assistant
(Aug. 18, 2006)--You will find the information you need to succeed at UTSA during Roadrunner Days at the Involvement Fair. More than 80 student organizations will participate in the fair from 10 a.m. to 2 p.m., Tuesday, Aug. 22, at the University Center, 1604 Campus.
Make the most of your college experience by getting involved on campus. UTSA has more than 200 registered student organizations, so you're guaranteed to find the right ones for you.
---
Today's headlines
Article tools
---
There are many benefits in joining a student organization: develop leadership skills, make new friends, explore new horizons and have a great time. Student organizations range from academic, to professional, to cultural and minority, to political and social. It has been said that you will earn your degree by going to class, but you complete your education by getting involved.
The UTSA Ambassadors will be on hand to help you find your classes, and like every other phase of Roadrunner Days, you'll find food: iced coffee, chips and salsa, popcorn and frozen drinks.
After you check out student organizations, go to the Campus Recreation Center for the Service/Vendor and Majors Fair from 10 a.m. to 2 p.m. You'll find financial aid information, Lonestar e-mail sign-up, as well as advising center, career services and health professions staffs. You'll learn more about the variety of services and the majors offered at UTSA.
More than 40 vendors will be on hand: banks, student lenders, Pocket Communications, Floore's Country Store, Texas Proud Laundry service and Wal-Mart are just a few of the vendors who want to visit with you. And of course, you'll find free food.
The service/vendor fair moves to the Downtown Campus from 4 to 6 p.m., Thursday, Aug. 24 at Bill Miller Plaza. As part of the Welcome Back party, music and food will be plentiful.
Feel at home. Feel involved. Feel wanted. Roadrunner Days!
University Communications
Contact Us