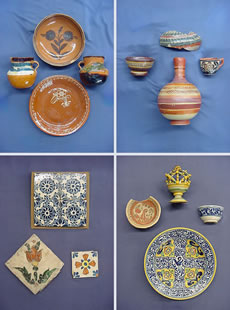 Spanish Colonial artifacts (top) and curation
facility (bottom) in the Center for Archaeological
Research
UTSA's CAR named state-certified curation facility
By Alexandria Sanchez
Student Writer, College of Liberal and Fine Arts
(Sept. 14, 2006)--The Texas Historical Commission recently designated the UTSA Center for Archaeological Research (CAR) as a state-certified curation facility. CAR is the first non-museum center in Texas associated with a university to be certified.
"This is another important step forward for CAR and continues the positive arc of the department with the addition of the Ph.D. program," said James McDonald, UTSA professor and chair of the Department of Anthropology. "Achieving this distinction included years of updating curation policies, procedures and standards as well as extensive upgrades to the structure as a whole. The center, the department and campus resources shared the hard work and effort."
---
Today's headlines
Article tools
---
"It's been a long time coming," said CAR Director Steve Tomka. "We have been working for 6 years toward this certification, including the hiring of a curator in 2000. Holding archeological collections for the state is a very special honor."
CAR was established in 1974 as part of the Department of Anthropology and the College of Liberal and Fine Arts. CAR is an authorized curating repository (ACR) as defined by the Council of Texas Archeologists Guidelines for Curation Standards and Procedures (1985) and an approved repository by the Texas Historical Commission.
The center's work focuses on historic and prehistoric sites such as the Spanish missions in San Antonio and across south central and South Texas. New records and artifacts are accepted with the understanding that the primary usage is research by students, scholars and other authorized persons.
-----------------------------
Student writer Kareem El Dahab contributed to this story.