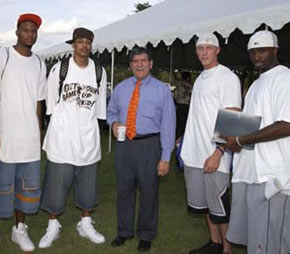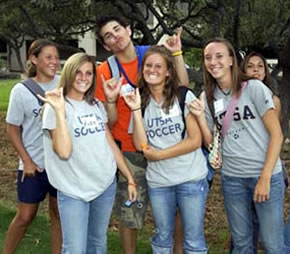 UTSA community starts year with flurry of events
By Tim Brownlee
Assistant Director of Public Affairs
(Sept. 11, 2006)--More than 1,500 UTSA students, faculty and staff members gathered on the evening of Wednesday, Aug. 23 for the President's BBQ, an evening of food, conversation, music and games.
The event was part of Roadrunner Days, a week of activities at the 1604 and Downtown campuses to welcome students and kick off the academic year.
On the lawn between the John Peace Library and Arts buildings on the 1604 Campus, there were tents, giant fans and plenty of cool beverages. The new venue at a cooler, lower elevation between the buildings and plenty of trees provided some relief from the heat. Previously, the event was on the Convocation Center lawn.
---
Today's headlines
Article tools
---
Pictured at left, (top row), Student Government Association President Adam Cowdin (right) draws a name, as UTSA President Ricardo Romo (left) is ready to announce the door prize winner. At right, Romo greets students. In the second row, students enjoy dinner under the tent and on the lawn. In the bottom row, students enjoy the good times (left) and the UTSA cheerleaders perform.