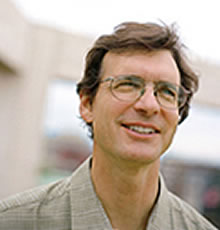 John Burnett
NPR's John Burnett to speak at UTSA Sept. 12
By Tim Brownlee
Assistant Director of Public Affairs
(Sept. 8, 2006)--Award-winning National Public Radio (NPR) journalist John Burnett will discuss his new book from 6 to 8 p.m., Tuesday, Sept. 12 in the Durango Building gallery at the UTSA Downtown Campus. Sponsored by UTSA and Texas Public Radio, the event is free and open to the public.
Burnett, whose work appears regularly on NPR's "Morning Edition" and "All Things Considered," will speak on his book, "Uncivilized Beasts and Shameless Hellions: Travels with an NPR Correspondent."
---
Today's headlines
Article tools
---
A former San Antonio Express-News reporter and current resident of Austin, Texas, Burnett has covered the war on drugs, been embedded in a Marine division in Iraq, provided hourly news on conditions during Hurricane Katrina and was a lead reporter on 9/11 and its aftermath. The book is a personal behind-the-scenes look at memorable, humorous and outrageous moments, and people that didn't make his on-air reports.
Refreshments will be provided and books will be available for purchase.
Make reservations online or call 1-800-622-8977 during regular business hours.
The Burnett appearance coincides in the Downtown Campus gallery with the photo exhibit, "Sound Gallery: de Ushuaia a San Antonio." Sponsored by UTSA and Wells Fargo, the exhibit uses photographic, video and audio elements to frame the intimate and public moments of well-known and anonymous heroes. Free and open to the public, the exhibit runs through Sept. 30. Gallery hours are 8 a.m.-5 p.m., Monday-Friday.
For more information, contact Arturo Almeida at (210) 458-4983.
------------------------------
About John Burnett
John Burnett has served since 1986 as NPR's Southwest correspondent based in Austin, Texas. His reports are heard regularly on NPR's award-winning newsmagazines "Morning Edition," "All Things Considered" and "Weekend Edition." He currently covers the Southwest border, primarily focusing on trade, the drug war, natural resources and immigration.
During his years with NPR, Burnett has reported from 25 countries. He was among the winners of the national 2004 Edward R. Murrow Awards from the Radio-Television News Directors Association. He won in the category of investigative reporting for his story on the bombing of an Iraqi village.