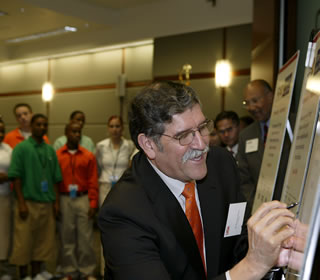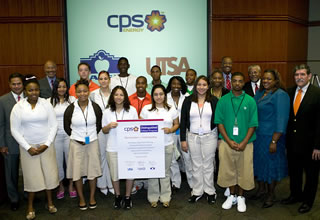 Top: UTSA President Ricardo Romo signs CPS Energy Fellows
agreement. Bottom: First CPS Energy Fellows with officials
(Photos by Vincent McDonald, CPS Energy)
CPS Energy, UTSA partner on career incentive program
By Bob McCullough
CPS Energy
(Sept. 14, 2006)--CPS Energy CEO Milton Lee, UTSA President Ricardo Romo and SAISD Superintendent Robert Duron signed an agreement Aug. 30 to establish the CPS Energy Distinguished Fellows program to offer college-credit courses in math and science to high school students in the top 10 percent of their classes.
Scholars from Sam Houston High School in the San Antonio Independent School District (SAISD) will attend classes taught by UTSA faculty members at the CPS Energy Management Center. Fifteen Sam Houston students attended the signing ceremony that officially launched the pacesetting educational initiative.
---
Today's headlines
Article tools
---
"This could be a model program for the entire country," said Romo. "These CPS Fellows are doing something special, something unique in our city, and it will inspire others. We hope this is the beginning of more honors programs and partnerships between UTSA, local businesses and various school districts."
Lee said, "CPS needs good, highly trained electrical and gas personnel to keep our company going in the future. We are happy to help our young neighbors, who are college bound and eager to explore challenging and rewarding careers that rely heavily on math and science. We are excited to offer our facilities for this program. The auditorium at our Energy Management Center is part of a state-of-the-art operations complex that is the nerve center of our natural gas and electric systems."
"This is a wonderful opportunity to expose these students not only to UTSA professors and that style and level of teaching but also to a professional setting that is very accessible to their campus," said Duron.
The Sam Houston students, who will spend two semesters completing their course work in integrated physics and pre-calculus, will earn 6 college credit hours and an additional 3 credit hours when they pass a college placement test. The first class will be taught by Tom Morrow, retired Southwest Research Foundation engineer and current UTSA adjunct engineering professor.
The students are Samantha Acevedo, Bianca Andrews, Tameka Crayton, Amber Davis, Quincy Doffeny, Blair Hannon, Joseph Humichouse, Shanna James, Justin Lowery, Ruth Martinez, Whitley McKnight, Raquel Sanchez, Valmore Smith, Tapacio Villalobos and James Washington.
The next group of Distinguished Fellows will be from East Central High School, followed by Roosevelt High School students.
CPS Energy is the nation's largest municipally owned energy company providing both natural gas and electric service. Acquired by the City of San Antonio in 1942, CPS Energy serves approximately 650,000 electric customers and more than 312,000 natural gas customers in the San Antonio area.
Proceeds from CPS Energy remain in San Antonio and account for more than one-fifth of the city's annual operating budget for police and fire protection, street improvements, parks and other services. CPS Energy bills rank among the lowest of the nation's largest cities, and the company has earned the highest financial ratings of any electric system in the nation. For more information, visit the CPS Energy Web site.