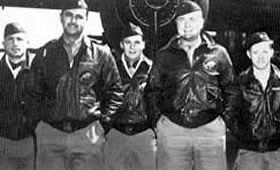 Doolittle's Raiders
Top: Lt. Col. Richard Cole (second from right)
Bottom: Brig. Gen. David Jones (second from left)
Doolittle's Raiders to speak Sept. 14 at UTSA 1604 Campus
By Ashley Harris
Public Affairs Specialist
(Sept. 13, 2006)--Retired Brig. Gen. David Jones and Retired Lt. Col. Richard Cole of the Doolittle Tokyo Raiders will speak at 3:30 p.m., Thursday, Sept. 14 in Main Building Room 0.104 at the UTSA 1604 Campus. The event is free and open to the public.
The Doolittle Tokyo Raiders flew into history April 18, 1942, after launching 16 B-25 Mitchell bombers from the deck of the Navy carrier Hornet. The air attack led by Lt. Col. James Doolittle, was intended to serve as the American response to the Japanese attack on Pearl Harbor on Dec. 7, 1941. The 1942 attack was significant because it was the first time in aviation history that a bomber was launched from the deck of a carrier, a feat believed to be impossible at the time.
---
Today's headlines
Article tools
---
Because of an early sighting by a Japanese picket boat, the raiders were forced to launch the B-25s a day early and more than 600 miles from their original designated location. The bombers arrived at their targeted destinations, Tokyo, Yokohama, Kobe, Osaka and Nagoya, at noon April 18. Although the raiders encountered enemy aircraft over Japan, none of the bombers were shot down.
However, unforeseen excessive fuel consumption, poor weather and the premature launch of the attack forced the bombers to crash land on Chinese and Russian soil short of their intended landing bases. As a result of the crash landings, three of the 80 volunteer crew members died and eight were taken as prisoners of war.
The result of the campaign was an immediate boost to low American morale and is credited by many military personnel as the turning point in the battle of the Pacific. All of the raiders who survived were awarded the Distinguished Flying Cross, and those who were killed, wounded or injured as a result of the raid also received the Purple Heart.
Of the original 80 raiders, 16 are alive today. The Doolittle Raid was the subject of two 1944 feature films, "Thirty Seconds Over Tokyo" and "The Purple Heart."