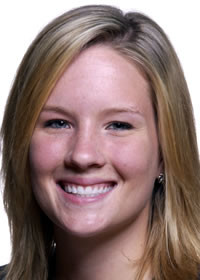 Audrey Hiser
UTSA volleyball: Audrey Hiser answers call of duty
By Brian Hernandez
UTSA Associate Director of Sports Information
(Sept. 12, 2006)--Imagine finding out in the middle of a match that your team needs you to play out of position in order to be successful. Then take a second to think about having to perform those unfamiliar duties with several members of your family watching from the stands. Now that's pressure.
That scenario played out last weekend in New Hampshire, as sophomore Audrey Hiser was asked to play the front row -- in addition to her normal back-row responsibilities -- after fellow sophomore Victoria Prior went down with an injury midway through the first game against San Jose State.
It was the first time since Hiser's senior season at local MacArthur High School that she was asked to play up front. Since Prior's injury occurred in the middle of the match, the 5-foot-7 Hiser said she really didn't have time to think about her additional chores, let alone get nervous.
---
Today's headlines
Article tools
---
"I was really excited about the opportunity," she said. "A lot of people think someone my size can't play the front row, but it's not about being tall, it's about being a smart hitter. I was glad Coach gave me a chance. I think I did pretty well and did my part to help the team be successful."
Hiser, who played every point after Prior's injury, finished the weekend with 19 kills, 42 digs and a pair of service aces.
With her parents and two aunts in attendance, she was excited to perform well in front of her family.
"I try not to focus on my family being in the crowd because I don't want to get nervous, but it was great to be able to play in front of them," Hiser said. "Since they live out of town, they don't get to see me play all that much."
Head coach Laura Neugebauer-Groff said she knew she asked a lot of her second-year defensive specialist this weekend but was confident Hiser could get the job done.
Hiser had 19 kills, 42 digs and two service aces last weekend.
"Audrey was in a tough spot this weekend and I thought she came through with flying colors, especially for someone who hadn't participated in a hitting drill all season," Neugebauer-Groff said. "She puts so much pressure on herself and this was a big challenge for her. I told her she needed to be steady and I thought she was emotionally sound all weekend."
Despite being short-handed, the Roadrunners came together and picked up two victories over the weekend, one of which was a hard-fought five-game decision against tournament host New Hampshire on Saturday night. In that match, UTSA raced to a 2-0 lead only to see the Wildcats win the next two games after intermission. The teams went back and forth in the fifth and deciding game, with the Roadrunners scratching out a 19-17 victory.
Hiser said the win could be a rallying point with conference play on the horizon.
"We really stuck together as a team this weekend," she said. "We're stronger now than we've been at any point this season. Saturday night was the most fun we've had as a team in long time."
After playing against Houston and UTEP on Thursday and Friday, respectively, the Roadrunners open Southland Conference play Sept. 21 at the Convocation Center against defending regular season champion Stephen F. Austin.
With just one tournament remaining before league play begins, Hiser said the Roadrunners have a simple goal.
"We just need to continue to work together as a team and have fun," she said.