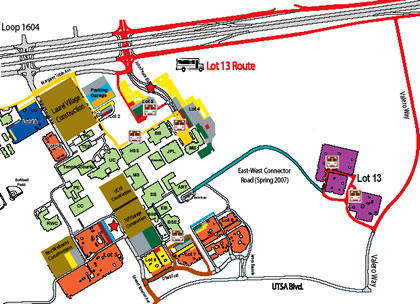 Lot 13 shuttle route, UTSA 1604 Campus
Lot 13 shuttle offers parking solution, convenience
By Marianne McBride Lewis
Director of Public Affairs
(Sept. 5, 2006)--As students arrive each fall semester at UTSA, the beginning-of-semester crunch begins, and there are some parking challenges for students navigating the 1604 Campus parking lots.
University officials are mindful of the frustration that students sometimes feel while looking for a parking space, and there is an alternative -- plenty of unused parking spaces are available in lot 13 on the east side of the 1604 Campus on Valero Way.
---
Today's headlines
Article tools
---
Shuttle bus service to and from lot 13 is available approximately every 20 minutes, Monday-Friday. During peak times, 8:30 a.m.-3:30 p.m., the shuttle arrives approximately every 10 minutes.
The shuttle runs between the lot 3 shuttle stop near the Business Building and two stops at lot 13. And, construction begins later this year on a new road from lot 13 directly to the Arts Building, which will cut shuttle time in half. Additionally, staff members from the Office of Parking and Transportation Services ride the shuttle routes each week to assess ridership patterns and adjust shuttle schedules accordingly to meet passenger needs.
Julie Gutierrez, an education major, is one student who parks in lot 13 and finds it convenient. "It's great not to deal with the hassle of having to drive around the parking lots," she said.
While some students may be wary of taking a shuttle to class, Gutierrez prefers the air-conditioned ride over the long walk in the heat. "It seems really time consuming, but it's not," Gutierrez said. "The shuttle gets here pretty fast."
Another advantage of lot 13 is the financial savings for students. Lot 13 parking permits are only $75 a year, while a general student-parking permit is $115.
As UTSA grows in enrollment, new academic buildings and student-supported facility expansions, the university also is adding parking spaces. Today, there are 2,200 more parking spaces on the 1604 Campus than in September 2004, and half of the new spaces are in lot 13.
So, for convenience, comfort and saving money, the shuttle and lot 13 are the solution for many students' parking woes.
For more information, contact UTSA Parking and Transportation Services at (210) 458-PARK (7275) or e-mail parking@utsa.edu.
------------------------------
Lot 13 shuttle schedule
Monday-Thursday
7 a.m.-9:45 p.m.
Friday
7 a.m.-7 p.m.
Note: Two buses run each day 8:30 a.m.-3:30 p.m. and 5:30-6:30 p.m. with arrivals approximately every 10 minutes. One bus runs each day 7-8:30 a.m., 3:30-5:30 p.m. and after 6:30 p.m. with arrivals approximately every 20 minutes.