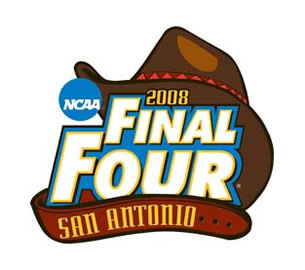 NCAA unveils logo for 2008 Men's Final Four
By Kyle Stephens
UTSA Sports Information Director
(Sept. 15, 2006)--Eighteen months of preparation for the 2008 Men's Final Four began Wednesday with the unveiling of the logo that will serve as the symbol for San Antonio's third opportunity to host the event since 1998.
The 2008 Final Four logo was unveiled in front of hundreds of eighth-grade students from San Antonio's Poe Middle School and members of the San Antonio Local Organizing Committee (SALOC).
---
Today's headlines
Article tools
---
"The Alamo City has been truly blessed by the partnership formed with the NCAA through its basketball championships that have brought millions of dollars to our community, helped our city shine in the national spotlight, and provided countless opportunities for our youth to reap the benefits of hosting a Final Four," said Pat Frost, chair of the San Antonio Local Organizing Committee.
Other SALOC members who joined Frost included Mike Abington, director of the Alamodome; Susan Blackwood, executive director of the San Antonio Sports Foundation; and Lynn Hickey, UTSA director of athletics.
"The Division I Men's Basketball Committee, particularly (new chairman) Gary Walters of Princeton University, felt that unveiling the logo at a local school embodies the growing outreach of the NCAA Final Four through community and youth involvement," said Tom Jernstedt, NCAA executive vice president. "This event is much more than just three basketball games. There are several ancillary events as well, which will allow local and regional fans, including children of all ages, to be involved. In the past few years, the influx of visitors to be part of the Final Four experience continues to grow. Above all, the focus on the student-athletes competing for the national championship is paramount."
The 2008 NCAA Men's Final Four, the final weekend of the Division I Men's Basketball Championship, will be held at the Alamodome in San Antonio on April 5-7, 2008.