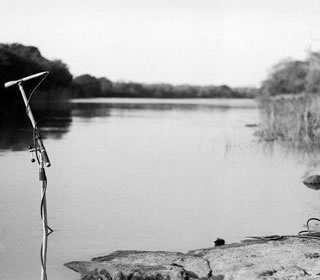 Top: Musicians Leda Valladares and Leon Garcia by Alejandra
Palacios
Bottom: From "De Ushuaia a la Quiaca" series by Alejandra
Palacios
UTSA, Wells Fargo present 'Sound Gallery' exhibit Sept. 6-30
By Tim Brownlee
Assistant Director of Public Affairs
(Sept. 5, 2006)--UTSA and Wells Fargo present "Sound Gallery: de Ushuaia a San Antonio," an exhibit using photographic, video and audio elements to frame the intimate and public moments of well-known and anonymous heroes.
The exhibit, free and open to the public, runs through Sept. 30 in the Durango Building gallery at the UTSA Downtown Campus. Gallery hours are 8 a.m.-5 p.m., Monday-Friday.
---
Today's headlines
Article tools
---
An opening reception is 6-8 p.m., Wednesday, Sept. 6. A special student reception is 4-6 p.m., Wednesday, Sept. 13.
Curated by filmmaker Guillermina Zabala, the exhibit is part of FOTOSEPTIEMBRE USA, an annual national forum that celebrates photography and photography-based art forms. In this exhibit, photographers and media artists explore the legacy of local and international musicians as they meet with the community and develop their art.
Photographers and media artists participating in the exhibit are Betty Bastidas, Alejandra Palacios, Carolina Rubio, Laura Varela and Guillermina Zabala.
"I met Guillermina Zabala and Laura Varela at their recent Blue Star exhibit," said Arturo Almeida, UTSA art specialist. "I admired their work and talent, and asked Guillermina to curate this UTSA exhibit and to bring together the work of these noted artists."
For more information, contact Arturo Almeida at (210) 458-4983.
------------------------------
About the artists
Betty Bastidas originally is from Ecuador and now is based in Brooklyn, N.Y. She has a certificate in documentary photography from Salt Institute of Documentary Studies (Maine) and was a bachelor of science degree from New York University. A passionate storyteller, her photo essays celebrate the strength of human spirit. Recurring themes in her work are the will to live, overcoming traumas, the courage to heal, and rising above fear and prejudices. Her photography has taken her around the world to India, Thailand, Laos, Australia, Cuba and Colombia, as well as within the United States to Maine, Missouri, New Mexico, Texas, New Orleans and California.
Born in Buenos Aires, Argentina, the photos of Alejandra Palacios have appeared in Rolling Stone (Argentina edition), Clarin, LA Weekly and Los Angeles Times, among other publications in English and Spanish. She has photographed dozens of international musicians, including Julieta Venegas, Juana Molina, Leon Gieco, Ruben Blades, Willie Colon, Juan Luis Guerra, Bon Jovi, Suzanne Vega and the Red Hot Chili Peppers.
Carolina Rubio is a San Antonio-based art educator, inter-disciplinary artist and curator with a master of art in art education degree from the School of the Art Institute of Chicago and a B.F.A degree in visual studies from Texas Tech University. She develops mixed media works exploring Mexican American women's relationships with violence, karma and liberation. Her solo exhibition debut is scheduled for April 2007 at One9Zero6 Gallery, San Antonio.
Laura Varela is a San Antonio-based filmmaker and media artist, originally from El Paso. Her projects are community-based focusing on issues of social justice and cultural preservation. She has produced several documentaries, narrative experimental films and video installations. She received a Humanities Texas Media Arts grant for her current project, "As Long as I Remember: American Veteranos." In 2004, along with Anne Lewis and Heather Courtney, she produced "The Texas Majority Minority for the Voting in America Project." In 2002, she was associate producer of "A Slight Discomfort: Echoes from the Clinic," which won the Premio Mesquite Award for Best Experimental Work at the San Antonio CineFestival.
Media artist/filmmaker Guillermina Zabala is a graduate of Columbia College, Hollywood, with a bachelor's degree in cinema. Her film, "The Hot Room," premiered on Showtime. Her experimental video, "F-Watch," recently was shown at Nalip's CAM Slam, and her video installation, "Progress," was exhibited at the Esperanza Center. In 2005, she exhibited a video altar dedicated to the dead of the Iraq war. Her documentary, "Pan de Vida: Bread of Life," was shown at San Antonio's Blue Star Contemporary Arts Center. She edited the film, "KordaVision," which won Best Documentary at the 2006 Monterrey Film Festival, New York Latino Film Festival and Albuquerque Film Festival; the 2005 Beverly Hills Film Festival and the 2004 San Francisco Latino Film Festival. She is media arts director for San Antonio's SAY Si organization. Zabala currently is producing "Juanito's Lab," a feature documentary exploring the life of blind musician Juanito Castillo, 18, who is proficient in 14 instruments.