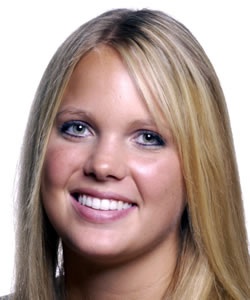 Shannon Walker (top) and Brandi Wall
Freshmen athletes boost UTSA volleyball team
By Brian Hernandez
UTSA Associate Sports Information Director
(Sept. 6, 2006)--Heading off to college can be a harrowing experience for any 17- or 18-year-old, let alone for someone who has the added responsibility of being a student-athlete at the Division I level.
---
Today's headlines
Article tools
---
Freshmen Shannon Walker and Brandi Wall have had to face the ups and downs of being away from home for the first time while trying to fit in with a new group of teammates. That's never an easy transition, but if their performances through the first week of the season are any indication, the Roadrunners volleyball team will be in trusted hands the next four years.
"Both Shannon and Brandi have adjusted to the team very well," head coach Laura Neugebauer-Groff said. "They are very talented players, but both of them know they have to improve. They are working hard at that every day in practice, but what I have really noticed about them is that they are very confident in their abilities and not intimidated by any situation. That is important."
Walker, a 6-foot-1 outside hitter from Carrollton, has seen the most action of the pair to date, starting all five of UTSA's matches this season. She is second on the team with seven service aces (including a career-high three Tuesday night vs. SMU), tied for second on the squad with eight block assists and third with 42 digs.
"I think playing for an open club team the last two years helped my transition to UTSA," said Walker, a vital member of Hebron High School's 2004 Texas 4A State Championship squad. "The upperclassmen have done a great job of welcoming me and I think we are starting to work well together on the court."
Walker has started all five matches for the Roadrunners this season.
Walker said she did not expect to start this soon in her career, but was excited when she heard her name called as a starter by Neugebauer-Groff on Friday afternoon against Syracuse.
"I was surprised when Coach told me I was going to be starting on Friday," Walker said. "I was really nervous when I took the court against Syracuse and Wichita State, but by Saturday morning, I started to feel comfortable out there. I know the other five players on the floor have been playing together for a while, so I just want to go out and help my teammates win."
Wall, who celebrated her 18th birthday while the team traveled to Wichita last Thursday, said she didn't expect to play much in the Best Western Classic. However, Neugebauer-Groff called her number in three of the four matches and she recorded two digs and a pair of block assists against Eastern Washington.
"I really didn't expect to play last weekend but was glad Coach had the confidence to put me in there," Wall said. "It had a little extra meaning because I was able to play in front of my family in my home state. I know I have a long ways to go, but I am trying my best every day at practice so I can get out there and help my teammates be successful."
Wall, who stands at 6-foot-2, came to UTSA as a two-time all-state performer at Piper (Kan.) High School in the Kansas City metro area. She has another seven years of club experience under her belt and helped lead the Mid-America Volleyball Club to a fifth-place finish at the 2004 Junior Olympic National Tournament.
By the time October and November roll around, the pair will be seasoned veterans and the transition from high school to college will be complete.