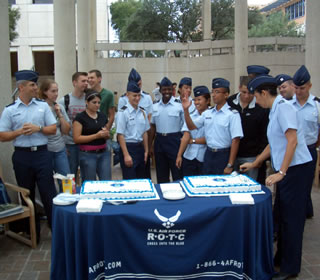 UTSA AFROTC students serve anniversary cake.
UTSA AFROTC celebrates Air Force's 59 years
By Ashley Harris
Public Affairs Specialist
(Oct. 11, 2006)--UTSA Air Force ROTC Detachment 842 cadets and officers served birthday cake Sept. 18 to students, faculty and staff in honor of the 59th anniversary of the United States Air Force.
Founded by Pres. Harry S Truman, the Air Force was created under the National Security Act of 1947.
---
Today's headlines
Article tools
---
"We wanted to celebrate this milestone in order for our cadets to understand where we came from," said Col. Lisa Firmin, UTSA Air Force ROTC commander. "When they enter active duty as officers, we want them to appreciate the sacrifices of those who came before them so they can continue to contribute to our rich heritage and serve this great nation."
Since its inception, the Air Force has faced many military challenges including the Berlin Airlift, Korea's MIG Alley and Vietnam's Thud Ridge. The Berlin Airlift occurred less than one year after the formation of the Air Force, which served as the major transporter of food and supplies to the German people in response to the Soviet Union's blockade of Berlin shortly after World War II.
UTSA Air Force ROTC Detachment 842 consists of 173 students and is the second largest in Texas. Each year, Detachment 842 commissions 25 to 35 new officers. In 2005, the U.S. Air Force invested $600,000 in scholarships for UTSA Air Force ROTC cadets.