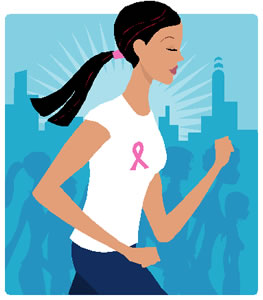 October is Breast Cancer Awareness Month
By Kathleen Ceresoli
Health Educator, Student Health Services
(Oct. 6, 2006)--UTSA Student Health Services has big plans for National Breast Cancer Awareness Month. Throughout October, campus outreach tables (Tell-a-Friend) will have information on breast and testicular cancer, as well as pink ribbons, brochures, self-exam shower cards, and breast and testicular models.
Tell-A-Friend is a nationwide initiative to remind women about the importance of mammograms in detecting breast cancer and that early detection is the best protection. You are encouraged to contact 10 female friends or relatives to remind them to get a mammogram.
---
Today's headlines
Article tools
---
Tell-a-Friend information tables this month at the 1604 Campus:
11 a.m.-2 p.m., Monday, Oct. 16; 11 a.m.-2 p.m., University Center second floor (sponsored by Premed Society)
11 a.m.-1 p.m., Tuesday, Oct. 23, Sombrilla Plaza (sponsored by Student Health Advisory Committee)
You can honor a breast cancer survivor or memorialize a loved one. Pink ribbons will be available at the outreach tables, the UTSA bookstore or by e-mailing Barbara Reyes. Specify "in memory of" or "in honor of" and include the first and last name of the recipient. Personal messages can be added. All ribbons will be placed on the bookstore windows at the 1604 and Downtown campuses.
Additionally, Student Health Services will sponsor training for breast cancer awareness presenters. The free training conducted by the American Cancer Society is noon-1 p.m., Oct. 11in Durango Building Room 3.206, Downtown Campus. To reserve a space, call (210) 458-6428.
To arrange a presentation on breast cancer prevention and detection, contact Kathleen Ceresoli, Student Health Services, at (210) 458-6428 or complete the presentation request form on the Student Health Services Web site.
For more information, contact Kathleen Ceresoli or Barbara Reyes at (210) 458-4142.
-------------------------------
Breast cancer statistics
Approximately 211,240 women in the United States will be diagnosed with breast cancer in 2006. More than 40,000 women will die from the disease this year.
The 5-year survival rate for breast cancer is 97 percent if cancer has not spread beyond breast, 77 percent if it has spread to nearby organs and 21 percent if it has spread throughout the body.
Mortality can be reduced 30-40 percent among women age 50 and over by the use of mammography and clinical exams.
Currently, more than 2 million women are living with breast cancer in the United States.
As screening programs have become more common, more cases of breast cancer are being detected in the earlier stages of disease, when they are more easily and successfully treated.
------------------------------
Resources