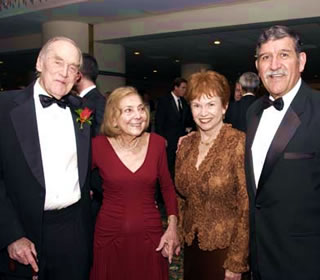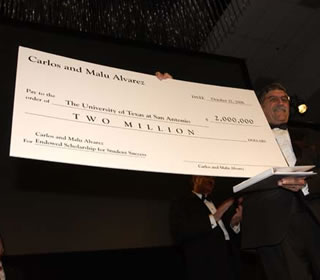 Top photo: Bernard Rapoport, Audre Rapoport, Harriett Romo and
Ricardo Romo
Video on Bernard Rapoport by UTSA Web and Multimedia
Services
Center photo: Carlos Alvarez
Bottom photo: Romo with gift from Carlos and Malu Alvarez
(Photos by Mark McClendon)
UTSA scholarship, awards dinner raises $3.1 million
By Marianne Lewis
Director of Public Affairs
(Oct. 18, 2006)--More than 900 friends of UTSA attended the annual President's Scholarship and Awards Dinner at the Marriott Rivercenter hotel Oct. 17, as the university recognized two outstanding South Texans and raised a record $3 million for student scholarships and other academic programs.
---
Today's headlines
Article tools
---
The black-tie affair honored Carlos Alvarez, president and CEO of The Gambrinus Co., who recently created the Carlos and Malu Alvarez Endowment for Student Success with a $2-million gift that will distribute $100,000 annually for UTSA scholarships.
Additionally, honors went to Bernard Rapoport, chairman emeritus and founder of American Income Life Insurance Co. and founder of the Bernard and Audre Rapoport Foundation, for his ardent support for the UTSA Downtown Campus.
Alvarez received the Tom C. Frost Award, presented annually by UTSA to an outstanding citizen who has provided exceptional leadership to important business and community endeavors.
A native of Mexico who became a U.S. citizen in 2001, Alvarez has worked to strengthen commercial, cultural and education ties between the two countries. He is a founding board member of the San Antonio-Mexico Foundation for Education, a graduate exchange program that allows Mexican university students to study at UTSA.
In 1986, Alvarez founded Gambrinus Co., a San Antonio-based beer distributor that has been the exclusive importer of Corona Extra from Mexico for the eastern United States for the past 20 years. Under Alvarez's leadership, Corona Extra became the best-selling imported beer in the United States.
"Tonight is an evening filled with hope and support for our students and admiration for the many friends of UTSA helping to make their university education a reality," said UTSA President Ricardo Romo.
"Tonight we honor one such individual, Carlos Alvarez, who along with his wife, Malu Alvarez, has been extraordinarily generous and recently established a $2-million endowment to support programs designed to assist deserving graduate and undergraduate students complete their degrees in a timely manner."
Alvarez was introduced by businessman Tom Frost and was presented a piece of Gini Garcia glass art to commemorate the evening.
The Tom C. Frost award was created in 2003 to pay tribute to Frost, chair of the UTSA Development Board since 1990. Previous award winners include Richard S. Liu, an international businessman and generous supporter of the UTSA College of Business, former Texas Governor Dolph Briscoe and Ed Whitacre, chairman and chief executive officer of AT&T, Inc.
UTSA also recognized Bernard Rapoport with the UTSA Gold Star Award. The Gold Star award is presented annually to an individual or organization that has forged extensive partnerships with the university and has supported UTSA students and faculty in extraordinary ways. Previous winners include Mrs. John B. Connally, former first lady of Texas and The USAA Foundation.
Rapoport served on the University of Texas System Board of Regents from 1991 to 1997, part of that time as chairman, and was instrumental in developing the UTSA Downtown Campus, which is only 12 blocks from his childhood home. In his years as a regent, Rapoport was influential in helping to secure significant funding from the Texas Legislature for UTSA and South Texas border universities.
"It is a great honor for me to recognize Bernard Rapoport, a fellow San Antonio West-sider, who probably remembers when the thought of a public university locating in San Antonio was simply a wish and a prayer," said Romo.
"However, because of Bernard, and others like him, today, we not only have a public university in San Antonio, but we have the public university -- one that is committed to financially helping our students succeed, and one that is committed to reaching top-100 research university status."
Rapoport was introduced by John T. Montford, AT&T, Inc. senior vice president - western region legislative and regulatory affairs. Rapoport also received a piece of Gini Garcia glass art as a commemorative gift.
The fundraising gala was hosted by UTSA President Ricardo Romo and Dr. Harriett Romo and co-chaired by John T. Montford and Kenny Wilson, regional president of Bank of America.
Also honored during the evening were the university's donor societies, the President's Associates, the Sombrilla Society and the Lone Star Society, as well as individual donors from last year.