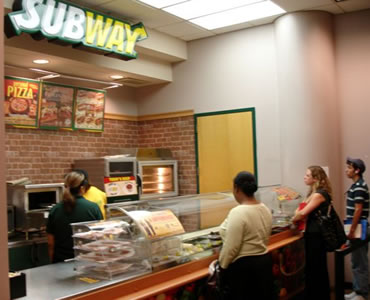 Downtown Campus food court
Downtown Campus food court offers range of choices
By Alexandria Sanchez
Student Writer, College of Liberal and Fine Arts
(Oct. 9, 2006)--The Frio Street Building food court at the UTSA Downtown Campus offers an array of food choices for students, faculty and staff.
Newman's Own pasta, Fresh Grill sandwiches, a salad bar and breakfast items give individuals a wide selection at mealtimes.
---
Today's headlines
Article tools
---
Breakfast items range from cheese and vegetable omelets, French toast and eggs, to fresh apples and bananas, and bagels, muffins or Danish.
The food court also features Subway sandwiches, which was added two years ago at the request of Downtown Campus students and staff. The on-campus Subway offers the same meal deals, salads, wraps and soups found in the off-campus venues of the sandwich shop.
Orlando Peredez, Chartwells supervisor for the Downtown Campus since February 2005, has an extensive background in food and nutrition. He served in the U.S. Air Force for 23 years as a nutritionist in military hospitals and for three years as a basic military training squadron food inspector at Lackland Air Force Base.
"The food court staff is dedicated to providing excellent service to the UTSA community," said Peredez. "The staff here knows the importance of teamwork, and we are always concerned with customer care."
Food court hours are 7:30 a.m.-5:30 p.m., Monday-Thursday and 7:30 a.m.-2 p.m., Friday.
For more information, visit the Dining Services Web site.