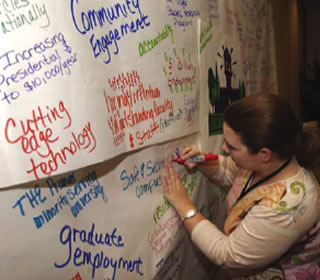 UTSA strategic planning session
UTSA community invited to strategic focus groups
By Tim Brownlee
Assistant Director of Public Affairs
(Oct. 30, 2006)--UTSA community members are invited to attend a 90-minute focus group to learn about the new UTSA strategic plan and to provide comments and suggestions.
Everyone who attends a strategic planning focus group will receive two tickets to an upcoming men's or women's basketball game, courtesy of UTSA Athletics.
---
Today's headlines
Article tools
---
Through Nov. 8, five focus groups are scheduled at the 1604 Campus and three at the Downtown Campus. Participants need only go to one of them; no research or preparation is necessary in order to attend.
See the focus group schedule below.
Two facilitators will lead each focus group. Sessions will be led by:
Richard Lewis, associate professor and special assistant to the president
Gerry Dizinno, associate professor and director of institutional research
Dorothy Flannagan, associate professor and Graduate School dean
Lisa Blazer, assistant vice president for student financial aid
"We are eagerly seeking input from faculty, staff and students at the focus groups," said Lewis. "In the sessions, we will start with a brief presentation to outline the plan, then ask for your comments, then discuss how we can implement the final plan. Participants can offer verbal or written comments at a focus group, and we have established a Web site where you can leave us additional remarks after the sessions."
The focus groups are part of the "UTSA 2016: Creating a Shared Vision" strategic planning project which began early this year. Leadership teams with representatives from across the university worked through the summer and fall to develop vision, values and mission statements, as well as nine thematic areas identified as important to meeting the UTSA mission over the next 10 years.
"One insightful thing that came out of the retreat was the common desire for UTSA to remain inclusive and remain family, in spite of our rapid growth," said UTSA Provost Rosalie Ambrosino. "We are all interested in including as many students, faculty and staff as possible in the discussions concerning the university's future."
Visit the UTSA Strategic Planning Web site, which includes a summary of last summer's strategic planning retreat and drafts of plans for the nine thematic areas. (At the strategic planning site, go to the "Thematic Teams Plan Rough Drafts" heading near the bottom of the page.)
The nine strategic action themes are accountability, community engagement, enrollment management, globalization, research, infrastructure and facilities, resources, staff and faculty success, and student success.
Additionally, you can submit your comments on the strategic plan in a SurveyMonkey.com online survey.
UTSA's final strategic planning document is due to UT System for review by the end of 2006.
------------------------------
Focus Group Schedule
Nov. 1, Wednesday:
9-10:30 a.m., John Peace Library Building Room 4.03.08, 1604 Campus
2:30-4 p.m., Durango Building Room 1.124, Downtown Campus
Nov. 6, Monday:
9-10:30 a.m., John Peace Library Building Room 4.03.08, 1604 Campus
1:30-3 p.m., John Peace Library Building Room 4.03.12, 1604 Campus
5-6:30 p.m., Frio Street Building Room 1.402, Downtown Campus
Nov. 7, Tuesday:
9-10:30 a.m., University Center Mesquite Room (2.01.24), 1604 Campus
Nov. 8, Wednesday:
9-10:30 a.m., Frio Street Building Room 1.402, Downtown Campus
5-6:30 p.m., Biotechnology, Sciences and Engineering Building Electrical Engineering Conference Room (1.406), 1604 Campus