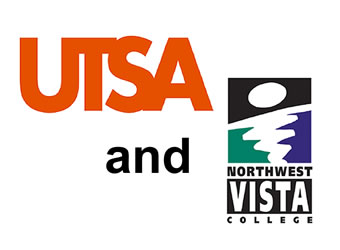 UTSA, Northwest Vista College partner on access
(Oct. 11, 2006)--Northwest Vista College (NVC) has partnered with UTSA to provide access to college to students who do not meet UTSA's admission criteria for incoming freshman but receive deferred admission to UTSA.
The Joint Undergraduate Matriculation Program (JUMP!) offers students the opportunity to begin college as a freshman at Northwest Vista, where they can complete either the UTSA or NVC core curriculum.
---
Today's headlines
Article tools
---
After completing 42 core hours for UTSA or 46 hours for NVC core curriculum with a minimum 2.0 grade point average and good academic and social standing, JUMP! students are guaranteed admission to UTSA as transfer students.
Other benefits for students in the JUMP! program include a dedicated NVC adviser to ensure students are taking transferable classes, a waived application fee to UTSA when students apply as a transfer student, and eligibility for a $2,000 scholarship to complete upper-division courses at UTSA; the scholarship is in addition to other financial aid for which they may be eligible.
"The JUMP! program is one of many partnerships we have with UTSA," said Jacqueline Claunch, Northwest Vista College president. "With this program, students who need help the most are getting assistance so that they do not have to delay higher education."
MaileIrene Perales, 18, found out about the JUMP! program from her mother, who spoke with an NVC adviser. "I think it's an excellent idea," said Perales. "I was lost and I didn't know what to do, but the adviser of the program helped me get over the fear of being in college for the first time."
On Sept. 7, NVC hosted "JUMP! Night" for students such as Perales to welcome the first group of JUMP! students and their parents. The students learned about Northwest Vista College and met a UTSA representative to establish connections with both institutions.
Northwest Vista College, which opened in 1995, is part of the Alamo Community College District. The college is at 3535 N. Ellison Drive, next to SeaWorld of Texas.
For more information, contact Renata Serafin, NVC director of public relations, at (210) 348-2082 or Marianne Lewis, UTSA director of public affairs, at (210) 458-4550.