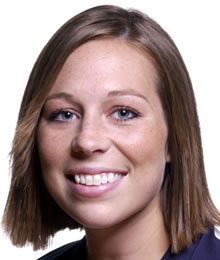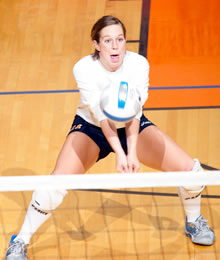 Student-athlete Erin McMillan
Student-athlete Erin McMillan: Defined by more than numbers
By Brian Hernandez
UTSA Associate Sports Information Director
(Oct. 9, 2006)--Erin McMillan doesn't need awards or gaudy statistics to measure her success. Even though her name isn't decorated with numbers on a box score, the San Antonio native knows her value to the team and she is content being a leader who motivates her teammates to perform at a high level.
---
Today's headlines
Article tools
---
McMillan, who plays libero for the Roadrunners, has been a leader for as long as she remembers and takes the responsibility seriously. She knows the importance of picking up a teammate when they're down and helping them reach from deep within to be successful.
"I think being a leader comes natural to me because I want to see people do their best all the time," she said. "I don't have the ability to do some of the things my teammates can do, so I try to motivate them to be successful. When they perform well, it motivates me to keep doing what I do and it helps me become better myself."
"It's very important to be a vocal leader. What I do on the court reflects on how successful our team is. When I see my teammates performing at a high level, it's all the credit I need. I'm very confident in my abilities and I don't need awards to tell me that I am valuable to my team."
A libero can be compared to an offensive lineman in football. Both positions, when played well, play a vital role in a team's success, but they are not defined by statistics. Liberos are defensive specialists and they cannot play the front row. They cannot block and it is rare that they attack, let alone record a kill. Needless to say, their value is defined by more than just numbers.
"I've always said Erin is one of the most underrated players in our conference," head coach Laura Neugebauer-Groff said. "Her value to this team cannot be found in statistics. Her court presence is much more important than any number that appears on a box score. She is one of the leaders of this team and brings out the best in all her teammates."
McMillan has 1,825 career digs, which ranks third on UTSA's all-time list.
An admitted "control freak," the two-time All-Southland Conference performer said the most difficult part of her job is that her position on the court does not allow her to do things that would otherwise help her team be successful.
"The hardest part of my job is not being able to do everything myself," she said. "I'm the type of person who tries to fix every little thing, but my position does not allow me to do that. That's why it's important for me to try and bring out the best in my teammates."
McMillan's competitive nature, strong work ethic and will to succeed have made her the player she is today.
"That's just the mentality of a defensive player in general," McMillan said. "If you aren't competitive and don't work hard, you're not going to be successful. You have to want to go after balls most people can't get to. You have to want to get on the ground and have a passion to dive and put your body in positions that aren't natural. My competitiveness has always come natural, but at the same time, it was nurtured by my family and high school coaches."
An English major who is on track to graduate in just four years, she said there is one number that would make her proud.
"My personal goal coming into this season was to reach the No. 1 spot in career digs," McMillan said. "I'm getting close and it's something I really want. I know I can get it and am doing everything I can to reach it."
After recording 19 digs in Tuesday's four-game victory at Texas A&M - Corpus Christi, McMillan now has 1,825 during her career and stands in third place on the school's all-time chart. She has reached double figures in 27 of UTSA's last 28 matches (dating back to Oct. 21, 2005), including a career-high-tying 32 at Rice earlier this season (Sept. 2). McMillan is just 15 digs from moving into sole possession of second (1,839 - Stacy Schmidt, 1998-2001) and 185 from taking over the top spot held by Shalynn McCoy, who registered 2,009 from 1986-89.
With a little more hard work and determination that goal, a SLC Championship and trip to the NCAA Tournament very well may be within reach.