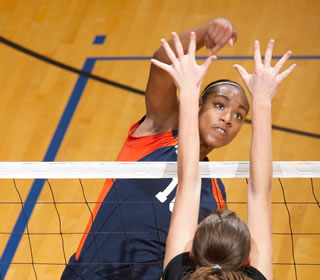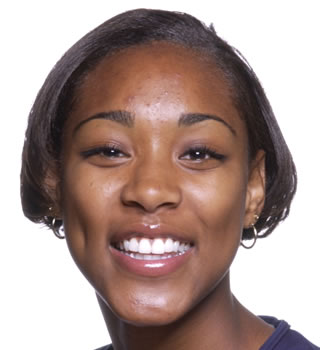 Student-athlete Victoria Prior
Volleyball's Victoria Prior: Athletics is in her blood
By Brian Hernandez
UTSA Associate Sports Information Director
(Oct. 19, 2006)--For Victoria Prior, basketball always was in her blood. So much so that the sophomore from Galveston spent her redshirt season at UTSA in 2004 playing for Rae Rippetoe-Blair's Roadrunners. That tends to happen when you grow up with three brothers who played the game.
Blessed with a 6-foot-2 frame and incredible athletic ability, Prior will be the first to tell you her natural place is on the court with an orange leather ball in her palms.
---
Today's headlines
Article tools
---
"Basketball has always come natural to me," Prior said. "To be honest, I only played volleyball in high school so I was in shape when basketball season started."
However, that changed when UTSA head volleyball coach Laura Neugebauer-Groff offered Prior a scholarship to play at middle hitter when she was a senior at Ball High School.
Since then, Prior admits she's been a work in progress. If the last year is any indication, Neugebauer-Groff and the Roadrunners are beginning to see the dividends of her hard work combined with her athleticism.
"Adjusting to volleyball has been difficult for me at times," Prior said. "Sometimes I think too much and that's when I start making mistakes, but Coach Groff has done a great job of giving me positive reinforcement and that's what I need."
"Victoria doesn't understand how good she can be," Neugebauer-Groff said. "When she goes out there and plays her game, she can be unstoppable because of her tremendous athletic ability. She just needs to slow down and let the game come to her."
Since Prior came to UTSA with very little club team experience (due to her basketball commitments), Neugebauer-Groff made the decision to redshirt her as a freshman so she could develop in practice and not feel the pressure of having to contribute right away. The decision began to pay dividends a little more than a year ago when Prior was inserted into the starting lineup after Jennifer Emelogu went down with an injury.
"I'd say the turning point for me personally was last year when we played Texas State," she said. "Em was out with an injury and I knew I needed to step my game up. I didn't have time to think about it and did what was expected of me."
Did she ever. In her first collegiate start, Prior hit .409 on the strength of 11 kills, including the match-clincher, against the Roadrunners' I-35 rival. She followed that performance with a robust .643 hitting percentage and 11 kills three days later at Nicholls State and was named the Southland Conference Offensive Player of the Week.
Prior later went on to set career highs in kills (19), solo blocks (two) and block assists (eight) against Northwestern State in the first round of the SLC Tournament and she was named to the All-Tournament Team. Prior finished the campaign with a UTSA single-season record .330 hitting percentage.
She has carried last year's strong finish into this season. Entering this weekend's matches in Louisiana, Prior ranks second on the team with 63 total blocks (nine solos/54 assists) and fourth with 207 kills (2.8 pg).
With senior Meagan Daniel missing five of the past six matches, Prior has stepped up her game in the last two weeks to compensate for the loss of the Roadrunners' first-team All-SLC performer. She has recorded 83 kills (3.5 pg), including a career-high 26 last Tuesday against Texas-Pan American, and 15 block assists in Daniels's absence. During that time, Prior also has made an effort to take more of a leadership role on the team.
"I'm really beginning to see how important it is for me to take on the responsibility of being a leader," she said. "The last couple of years, I've been the quiet one who sits back and listens to what everyone has to say. After this year, we are going to lose five seniors and I think it's important that I begin to assume a leadership role. I am actually looking forward to it."
Prior said her goals coming into the season were to improve her blocking skills and put away more winners. So far, she is pleased with her progress, but she knows she still can improve in those areas.
With a little more than a month remaining in the season, Prior believes the Roadrunners have the talent and ability to finish the season on a high note.
"We have the ability to be so good and we need to have the confidence to put teams away when we have them down," she said. "As long as we don't get down on ourselves, the sky is the limit."