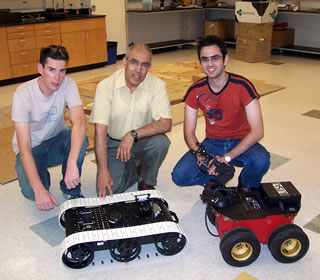 From left, student Ben Horan, Prof. Mo Jamshidi and student
Hamed Azar Noush
Video links:
UTSA engineering students build robots to assist
the military
(WOAI TV, Thursday, Oct. 19)
UTSA and SwRI host engineering and science
student conference
(KABB TV, Friday, Oct. 20)
UTSA robotics expert leads Oct. 20 conference
By Kris Rodriguez
Public Affairs Specialist
(Oct. 18, 2006)--When internationally recognized robotics expert Mo Jamshidi decided to leave the University of New Mexico and join the UTSA College of Engineering, it sent a statement to the world that UTSA is committed to recruiting top-notch faculty in order to become a premier research university.
---
Today's headlines
Article tools
---
Having just completed presentations in Germany, Hawaii and Taiwan, Jamshidi, the Lutcher Brown Endowed Chair of Electrical and Computer Engineering, will host the first Engineering, Science and Biotechnology Student Conference in the new Biotechnology, Sciences and Engineering (BSE) Building at the UTSA 1604 Campus on Oct. 20.
Edward Tunstel, a NASA engineer on the Mars Rover project, will provide the welcoming address. Tunstel is one of 105 master's and doctoral students educated under Jamshidi when he led UNM's Autonomous Control Center program, a center that helps provide answers to solve NASA's problems.
Among the 40 student presentations at the conference is an exhibit featuring the rover robotic swarms on which Jamshidi's students have worked since he arrived at UTSA in January. The projects will assist the military in the war on terror. Equipped with biosensors, the rovers can go into dangerous areas to detect improvised explosive devices (IEDs) and biological or chemical weapons. To test the effectiveness of the rovers, the students use a rough-terrain environment at the Southwest Research Institute, a co-sponsor of the conference.
Walter Downing, SwRI senior executive vice president and UTSA MBA alumnus, will provide the keynote address on new research collaborations of SwRI and UTSA.
In April 2007, Jamshidi will showcase his students' top papers at the Institute of Electrical and Electronics Engineers International Conference on System of Systems Engineering that he will host in San Antonio.